Briefs
Lois Capps Fights to End 'Rental Car Roulette'
Introduces Legislation that Would Close Loophole in Federal Safety Standards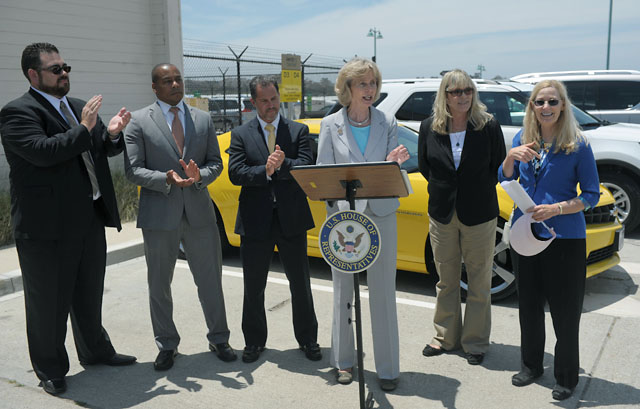 Since Cally Houck's daughters were killed in a rental car that, due to a steering defect, crashed and caught fire in 2004, she has been fighting a battle against the $14-billion industry to prevent the rental of vehicles that are under federal recall for safety problems.
Congressmember Lois Capps, alongside Houck, consumer advocate Rosemary Shahan, and a group of Hertz Car Rental executives, held a press conference Friday at the Santa Barbara Airport on bipartisan legislation that Capps introduced last week.
The Raechel and Jacqueline Houck Safe Rental Car Act of 2012 — named in honor of the young sisters — would prevent rental car companies from the rental or sale of recalled vehicles until they have been properly repaired. The bill is cosponsored by Central Coast Congressmember Elton Gallegly (CA-24) and other U.S. representatives.
"If a recall notice has been issued for a rented car, that car should be taken off the road until it's fixed — it's that simple," said Capps. She praised Hertz for their full support of the new legislation, noting car dealers are already subject to such requirements.
"We are trying to close a loophole in federal safety standards," said Houck on Friday. "My daughters were killed because this loophole exists." Houck's daughters, 20 and 24 years old, were driving in Ojai when they crashed head-on into an 18-wheeler truck in a PT Cruiser rented out by Enterprise. The company had not informed the sisters of the vehicle's recall status.
"This bill sends a clear message to Enterprise, Dollar, and Thrifty, which have been working behind the scenes to oppose Cally Houck's efforts — it's time to stop playing 'rental car roulette' with their customers' lives," said Shahan, president of Consumers for Auto Reliability and Safety.
Capps and Houck say they will continue to work on the issue until the legislation is passed. Senators Barbara Boxer (D-CA) and Charles Schumer (D-NY) have introduced similar bills into the U.S. Senate.