Briefs
Santa Maria Police Chief Danny Macagni Placed on Administrative Leave
Comes in Wake of Multiple Officer-Involved Shootings and Vote of No Confidence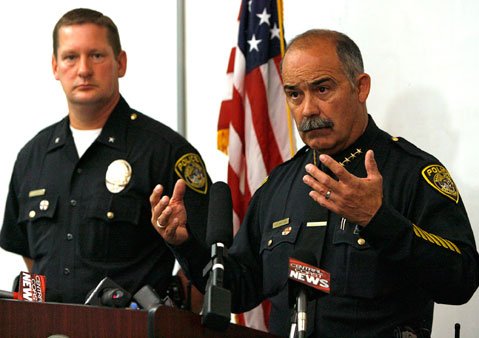 Santa Maria Police Chief Danny Macagni, on the heels of another officer-involved shooting inside city limits, was placed on paid administrative leave Wednesday afternoon. In his absence, Cmdr. Craig Ritz will be the interim leader of the department, said City Manager Rick Haydon.
Haydon, who met with the chief Wednesday afternoon, wouldn't say much else about the decision to place Macagni on leave, calling it a personnel issue. An email sent to the chief's city email address bounced back Thursday morning. It is not clear how long the administrative leave will last.
While Santa Maria has been plagued by serious crime in recent months and years, and there have been allegations of misconduct made against Macagni, his department came under heightened scrutiny in January after one of his officers was shot and killed by fellow officers.
Officers were trying to arrest Albert Covarrubias Jr., on-duty at the time, based on allegations he was having an illegal relationship with a minor. When officers went to take him into custody, he pulled his gun out and was shot three times.
While a District Attorney's report ruled the shooting was justified, the report detailed how miscommunication among higher-ups in the Santa Maria Police Department likely led to Covarrubias getting tipped off that he was being investigated for the relationship. It isn't clear what involvement, if any, Macagni had in the investigation.
Not long after the shooting, the Police Officer's Association cast a vote of no confidence in the chief. That shooting was preceded by another incident late last year when officers were attempting to disarm and arrest a suspected drug dealer when two officers were hit by "friendly fire."
Macagni was named interim chief in 2003 when Chief John Sterling was placed on leave by the former city manager. Macagni has been a full-time officer with the Santa Maria Police Department since 1977 and was promoted in 2001 to commander.