Briefs
Camino for Cameron
Brother Makes Pilgrimage to Raise Funds for Special Olympics
Cooper Barrick just completed the trip of a lifetime — a 500-mile on-foot journey on Northern Spain's Camino de Santiago de Compostela (or Way of Saint James). While many twenty-somethings take gap year trips, Cooper's walk is for a distinct purpose: to raise money for the Special Olympics on behalf of his brother Cameron.
The two youngest of five siblings, Cooper and Cameron's bonds are very strong. Wherever Cooper went as a child, Cameron would go too. Cooper worried, however, that Cameron's autism would eventually limit his ability to follow along.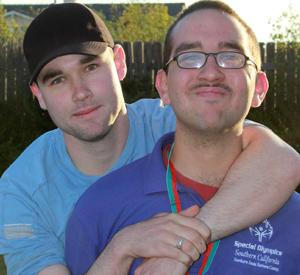 When Cooper became more interested in fitness after graduating from Lompoc High School, though, Cameron joined the Special Olympics and has been hooked ever since. Cameron plays different sports according to the seasons, meeting in Lompoc or Vandenberg Village to practice swimming, bocce ball, basketball, softball, and Cameron's favorite fall sport — bowling. He travels to tournaments out of town with his teammates, including a recent weekend trip to Long Beach State where he stayed over in the dormitories.
Cameron and Cooper's mother, Shannon Barrick, highlighted what an important program the Special Olympics is for participants and their families. "It helps so many people have something they feel a part of when they aren't necessarily part of the norm," she said. "It's such an inspiring program."
Many elements came together at once for Cooper that put him on the Way of Saint James. An avid reader and aspiring history professor, Cooper had been interested in taking the pilgrimage since reading Paolo Coehlo's The Alchemist. Having earned his BA at age 20 near the same time that Cameron turned 18 years old, Cooper decided that if he were to take a spiritual journey, he wanted to help others at the same time.
"We were a little apprehensive at first," said Shannon of her and her husband, Britt, "but before we knew it, Cooper met with Rudy Gutierrez and got official approval from the Special Olympics and it was like, 'Oh. I guess you're going.'"
Cooper saw traveling to Spain as a way to understand and support his brother's experience of being autistic and being treated differently by the people around him.
Cooper wrote, "I plan to travel to Spain to feel what Cameron feels," on his fundraising website camino4cameron.com. "I will be in a new world … I will have no control of the language and will risk being viewed as the different one."
Cooper was determined to complete the entire 500 miles on foot. "Some people would take the bus between cities sometimes," said Shannon, "but he told me, 'I'd know in my heart if I cheated.'" Braving a hurt knee, blistered feet, and a fall into a ditch that resulted in a broken Kindle, Cooper received his Compostela — the Pilgrim's certificate of completion — having walked the whole way.
Donations have come through Cooper's website, designed by friend and fundraising director Donald Kemp. Kemp and the Barrick family enlisted word of mouth, social media, and sponsorships from local businesses. As Cooper journeys back to Lompoc, arriving home on Tuesday August 7, the Barricks are working to raise the last $1,600 of their $5,000 goal.
"Social media has been huge — we got $600 and $700 donations from Reddit.com alone," said Kemp.
"We've been rushing to finish the last of it before Tuesday," said Shannon.