Briefs
S.B. Barista Takes Unique Approach to Opening New Biz
Matthew Carter Raising Money for Café and Boys and Girls Clubs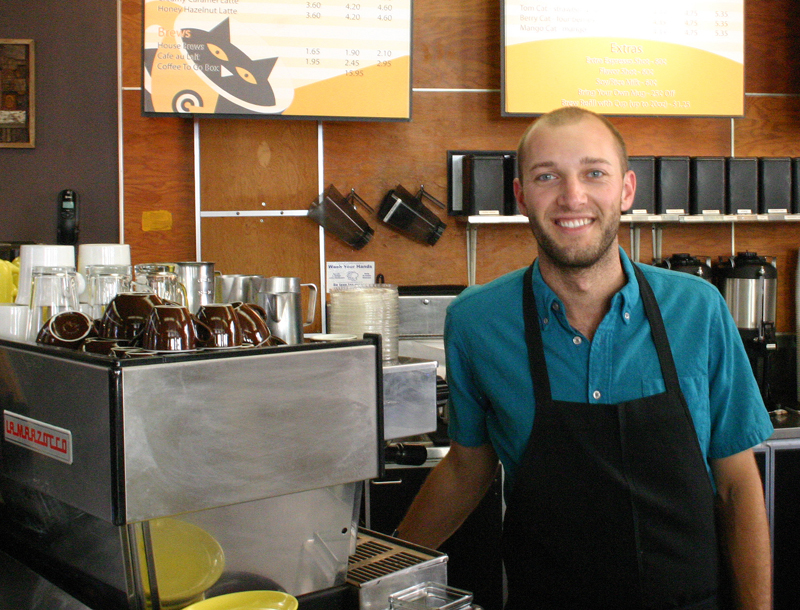 After the abrupt closure of Goleta's Café Zoma, manager Matthew Carter quickly transferred to Coffee Cat, Zoma's downtown sister cafe. But now Carter wants to go back to reopen the Zoma location under a new name and with new ownership using a start-up model unprecedented for the South Coast.
Carter started a fundly.com page where private contributors can donate any sum of money toward a goal of $25,000, just enough to lease the Goleta storefront and open its doors again. However, Carter wants his supporters to feel like their money is being well-spent — so he has promised that every penny of the initial fund plus an additional $3,000 "interest" donation will be paid to the communities of Santa Barbara and Barstow through donations to the cities' Boys and Girls Clubs.
Carter grew up in Barstow and spent a large part of his childhood in the city's Boys and Girls Club, attending every day after school until his mother finished work. Since working at a Starbucks in his teens, he has dreamed of opening a café of his own. Unfortunately, collateral on a traditional loan is not something downtown Santa Barbara baristas can easily come up with, so Carter looked elsewhere for the start-up funds to start a new business.
It turns out Zoma's closure was a blessing in disguise. The building, according to Carter, is completely intact, with all the kitchen equipment still in place. Right now, all assets are owned by the landlord, so Carter says leasing the space would give him a fully functional café, located a few doors down from Albertsons in the busy University Plaza Shopping Center, for a fraction of the cost.
"Opening a business, especially a food-service business, for $25,000 is basically unheard of," Carter said. "This is my best shot, truly. This will be the biggest and best chance that I have."
Despite Carter's enthusiasm for the idea, $25,000 is a large sum for private investors, many of whom are his friends and family, to contribute. As of press time, Carter has $1,520, with 23 days left to meet his goal. However, he says even $10,000 could be enough to get the ball rolling by giving him enough capital to seek a traditional loan. If all else fails, Carter says the money will still make its way to the Boys and Girls Clubs, back into the organization that helped bring him up.