Courts & Crime
Mesa Stabbing Suspects Strike Plea Deals
Michael Hardy Sentenced to Eight Years; Sean Crane Will Receive Seven Years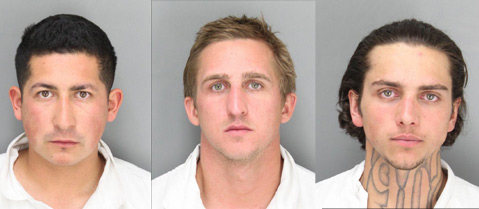 Two men allegedly responsible for two stabbings during an April 2012 party on the Mesa are headed to prison after reaching plea deals Tuesday afternoon.
Michael Hardy, 23, was sentenced to eight years in prison by Judge Clifford Anderson Tuesday, while Sean Crane, 24, will head to state prison for seven years when he is sentenced next month.
Both were involved in fights outside a party at 1037 Del Mar Avenue. Just before midnight on Friday, April 13, police arrived at the scene to find one victim in "extremely critical condition" from stab wounds. Another victim had also been stabbed, though he was in better condition.
Prosecutor Anthony Davis said an investigation revealed two fights unfolded outside the residence. A man named Devin Kelley was fighting with one of the victims, when Hardy approached and stabbed him, Davis said. Crane was fighting with a 41-year-old victim and stabbed him.
Crane left the party with Eddie Mesa, Davis said. According to police, witnesses helped identify the suspects, and authorities eventually tracked down all four. When police confronted Mesa, he originally lied about details of the case, Davis said.
Mesa, an active Marine whose deployment was delayed following his arrest, was originally charged with accessory after the fact, but a plea deal allowed him to plead to misdemeanor resisting arrest. He received credit for time served.
While Kelley was originally arrested in connection with the fight, he was not charged with a crime.
Hardy was originally charged with assault with a deadly weapon but pleaded Tuesday to assault with force likely to produce great bodily injury, with a special allegation of committing an offense while out on bail. In March, he pleaded to assault with force likely to produce great bodily injury for a December 2011 attack. He was awaiting sentencing when the April stabbing occurred.
Crane was originally charged with attempted murder, which would have carried with it a maximum sentence of 10 years. He pleaded to assault with a deadly weapon and will be sentenced on October 29 to seven years in prison.
Davis said both victims are healing well, though the more serious stabbing incident almost ended in death. "To be quite honest, I think it's a miracle he's even alive," Davis said. That victim, a 41-year-old man, was stabbed at least four times.