Visual Arts
Art Seen Explores Grace Weston's Mind's Eye
Dolls, Books, Food, and a Psychic Are All in the Art Mix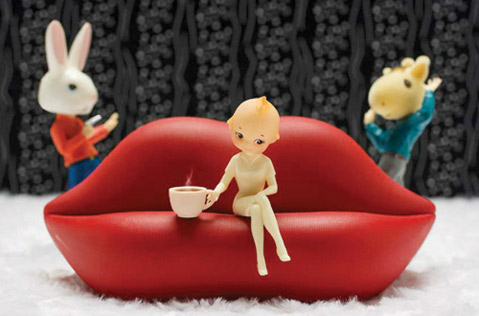 HELLO, DOLLY: At Wall Space, Crista Dix's elegant second-floor photography gallery in the Funk Zone, the current exhibition features Grace Weston's magical and eerie images of, among other things, dolls. The show is called Mind's Eye, and the photographs, rich in color and rife with implication, depict miniature vignettes that the artist constructs in her studio using handmade and found sets and props. In a classic Weston image like "Torn Between Two Lovers," a pixie-ish plastic doll with a giant head and big eyes sits on a miniature version of one of those bright-red two-lip sofas, legs crossed and casually sipping on an oversized cup of steaming hot coffee. Meanwhile, a toy rabbit fires a miniature pistol at a toy mouse behind her. The pleasures these wonderful photos offer are multiple. First there are the clever setups, many of which — like "Baby Makes Three," where a giant baby doll head looks down on her miniature parents — deliver sharply ironic contemporary takes on universal themes. Then there's the execution, which is ravishing in its coherence and attention to detail. Add to that the persistent strokes of surrealism and metaphysical whimsy, and you have a true photographic original and a show very much worth catching before it closes on Sunday, October 7.
EAT AT CAF: The Santa Barbara Contemporary Arts Forum has a new series of events beginning this fall and extending into early January 2013 that it's dubbing Crave: Art, Food, & Social Experience. It's an ambitious program that seeks to bridge the gap between the kind of themed dinners created by innovative chefs and caterers and the immersive experiences favored by performance and installation artists. The first event, the Come to Your Senses Cocktail Party, takes place at the CAF Satellite Gallery in the Hotel Indigo (121 State St.). Alvaro Castellanos Rojas and Weston Richards of Spare Parts Guerilla Dining will be on hand to present the food that will excite your senses of taste and smell, and Pali Wines will be serving the drinks. But that's only the beginning, as dj.colormap has been designated to delight your ears, and CAF director Miki Garcia promises that there will be special temporary tattoos to encourage touching and even a psychic to cultivate that sixth sense you know you have lurking somewhere within.
On November 2, Crave continues with its first full-dinner experience, a celebration of Día de los Muertos led by Santa Barbara artist Maria Rendón that will take place at CAF's Paseo Nuevo headquarters. Rendón, who was born in Mexico City, is an accomplished painter, and she has a fascinating and expansive vision for the installation of this event that will have guests in an imaginary grave for the night and looking up at a heaven full of blue flowers. In early 2013, artists and life partners Nathan Hayden and Hannah Vainstein will take over the CAF space for a New Year/Clean Slate Dinner. Hayden and Vainstein have developed an underground reputation on the Santa Barbara scene for their Lower Lodge parties, so this one promises to sell out quickly. To reserve tickets for any of these limited-attendance events, visit cravesb.eventbrite.com.
BOOKS DO MAKE A ROOM: The square landscape collages that Steven Gilbar has made from the pages of books are some of the best small images I've seen this year. Some have familiar words in them that have been preserved intact — like "Contents," "Fourth," or "Copyright" — while others deploy the printed page in thin, barely recognizable horizontal and vertical strips. What they all have in common is a crafty, sure-handed but oblique relationship to the conventions of landscape painting. It's a winning combination, and these Bookscapes are well worth the trip to Porch (3823 Santa Claus Ln.), where they will remain on view until Wednesday, October 24.