Teddy is a 12-month-old cocker/English spaniel mix who is looking for a permanent home. This darling, lovable boy is very eager to get a fresh start in a happy, loving home. He is feeling good and has such a wonderful energy and joy for life. There does not appear to be a mean bone in his whole body — just pure sweetness. He came to us from a situation where he had very limited social interaction. His first few days with us were scary for him. He was frightened and nervous of strangers. We've been patient, gentle, and slow with him, and he's been very responsive to our attention and affection. He is warming up nicely and becoming much more comfortable with us. He is eagerly learning to walk on a leash, and we discovered that Teddy loves to roll in the grass!! He will just drop and roll as soon as he hits the grass. He especially enjoys doing a "belly crawl" across the cool grass. Ah, the simple pleasures of being a dog!!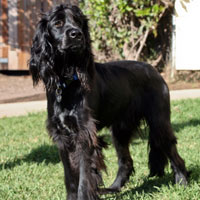 He is very unique looking dog. He is slim and has really long, skinny legs. He most definitely has a cocker or Brittany spaniel face with big beautiful brown eyes, a velvety soft rounded nose, and long, floppy ears. His coat is incredibly smooth and silky. He is completely black except for a little white tuft on a couple of his feet. His coat was long and pretty matted when he came in. He was trimmed rather short, but he was uncomfortable with us trimming his feet so we let him be. So he has big fluffy feet that look like he's wearing UGG slippers. As he gets more comfortable with us, we will work on trimming those feet. He is well mannered and eager to please. He is very calm and quiet, except when he sees another dog. He gets very excited and wants to play so badly. Teddy is waiting for a loving family to take him into their heart and home and teach him what it feels like to be loved and respected, which will in turn allow him to become more confident and adjusted. He appears to be potty trained. Teddy will need to be brushed frequently and groomed every so often. It will be very important to keep the long hair in and around his ears trimmed. He was fine with that!! He will bloom into a wonderful, loyal pet.
To inquire about adopting a dog, visit DAWG in Santa Barbara. DAWG (Dog Adoption and Welfare Group) is a no-kill, not-for-profit dog rescue/adoption organization located at 5480 Overpass Road in Goleta. For more information, call (805) 681-0561. You can view more adoptable dogs at: www.sbdawg.org. All of the dogs have been spayed/neutered, micro-chipped, are current on their shots, and have flea/tick/mosquito protection. We ask for a minimum adoption donation of $250 for young dogs (under three years), $150 for adult dogs, and $125 for seniors (dogs 8 years old and over).
For more information on our available dogs, call (805) 681-0561, email adopt@sbdawg.org or come by during open adoption hours, Thursday-Monday, 12-5 p.m..