Film & TV
2012's OUTrageous Film Fest Is Bigger, Bolder
Santa Barbara's Annual LGBT Cinema Event Kicks Off November 8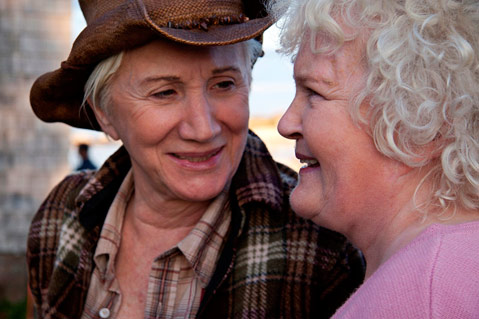 This Thursday marks the kickoff date for OUTrageous: The Santa Barbara Lesbian, Gay, Bisexual, Transgender, and Queer Film Festival. The annual event, which stretches to four days' worth of programming this year, is easily one of the Santa Barbara LGBTQ community's more inclusive happenings. As festival committee chair and longtime OUTrageous volunteer Gary Clark puts it, "There are very few people who don't like going to the movies."
But whether or not you're a cinephile, the selections for 2012's OUTrageous are well worth a look. This year, the festival's selection committee pored over hundreds of contenders before narrowing the lineup down to 30 films. Among them are short programs, feature films, and offerings from across the globe.
"Our goal is to bring films to the community that wouldn't otherwise be seen here," explained Clark. While the OUTrageous team makes a strong effort to include area filmmakers whenever possible, Clark singled out UCSB alum Matthew Mishory and his film Joshua Tree as an extra-special entry to watch for. (It screens on Friday, November 9, at 6:30 p.m. at Metro 4) Other weekend highlights include Cloudburst, a heartwarming romp about a feisty senior-citizen couple starring Olympia Dukakis and Brenda Fricker. Clark also zeroed in on I Stand Corrected, a "beautiful documentary about a jazz bassist who transitions from male to female in the midst of her career"; Call Me Kuchu, a challenging doc about homophobia in Uganda; and Tsuyako, a short film about a Japanese factory worker that presents an epic tale in just under 30 minutes.
While diversity has long been a main component of the OUTrageous lineup, this year's selections truly do signal a new chapter for the LGBTQ film world. Says Clark, "Across the board, we've noticed a really solid crop of films in all areas of the LGBTQ spectrum, which says to me that the industry of queer cinema is maturing in a really wonderful way. It's exciting to see and super exciting to present."
OUTrageous: The Santa Barbara Lesbian, Gay, Bisexual, Transgender, and Queer Film Festival takes place this Thursday, November 8-Sunday, November 11, at UCSB's MultiCultural Center and the Metro 4 Theatre (618 State St.). For a full lineup of films and events, visit outrageousfilmfestival.org.