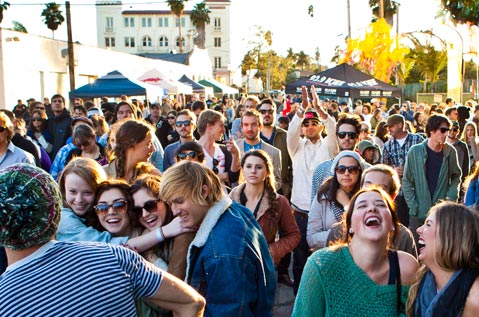 THAT'S A WRAP: Oh, New Noise. In the four years since your big debut, you've grown into one mighty little music fest, boasting more variety, info, and live music mayhem than anything else Santa Barbara has to offer.
This past weekend brought the 2012 New Noise Music Conference & Festival back to the streets and clubs of S.B. Unlike years past, there was no 1,000-plus-capacity show to kick the whole thing off, but even without the big headliner, New Noise No. 4 managed to tear the roof off the place, so to speak. If there was a theme to attach to this year's festivities, it would have been "Localize It." Since its inauguration in 2009, New Noise has always been about supporting the S.B. scene, but this year brought with it more amazing, area-bred talent than ever before. On Thursday night, Velvet Jones played host to six bands (yes, six bands), all hailing from S.B. From openers (and newcomers) Xela to Saint Anne's Place, Dante Elephante, Naked Walrus, Freakin' on Speakers, and headliners Beware of Darkness, the night worked as a perfect jump start to the weekend. For those who have kept a watchful eye on these bands and players in recent years, Thursday's show marked a triumphant step forward for almost everyone on the bill, and it undoubtedly set the tone for what was to follow.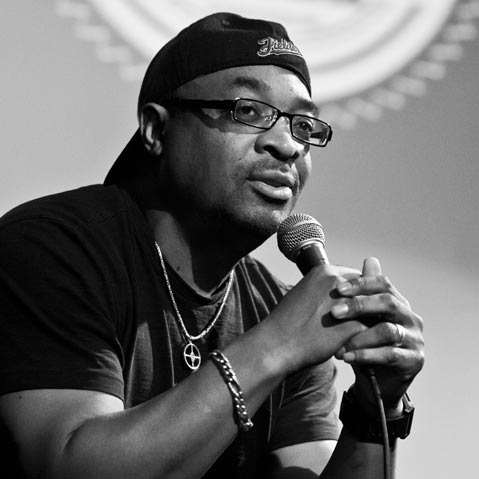 Come Friday, all eyes were on The Savoy, where the conference portion of New Noise posted up for a day's worth of talk about all things music. With a schedule of concurrent discussions split between the club's third and first floors, attendees were able to choose between panel discussions on booking, publishing, songwriting, and the importance of supporting all-ages venues. Still, it was the afternoon's grand finale — a thoughtful and laughter-filled discussion between Topspin mastermind Ian Rogers and Public Enemy's Chuck D — that had the place packed. Onstage, Chuck dropped knowledge on everything from the dawn of the MP3 player to the rise of hip-hop, but he continued to come back to the thought that it all starts on the local level and that FM radio is the number-one place where change needs to be implemented.
Come nightfall, Savoy's open-mike happy hour bled right into an evening of lively folk at Muddy Waters Café, an amps-cranked punk fest at Whiskey Richard's, a whole lot of indie pop at SOhO Restaurant & Music Club, and a double bill that featured Blackalicious and Saul Williams, followed by sets from Ralph Torrefranca & The Outlawed Sons and Mike Watt & The Missingmen at Velvet Jones.
Saturday, it all went down in the Funk Zone as New Noise shut down Mason Street between State and Anacapa for a day of music, food, merch, and libations. Despite brisk temps, and perhaps thanks to an overflowing beer garden, the first New Noise Block Party proved itself a massive success. In addition to killer sets from Lompoc lovelies Millions, a newly reinvigorated Ghost Tiger, L.A. rockers So Many Wizards, S.B. pop favorites Little Owl, Portland's genre-crossing Y La Bamba, and our own indie heavyweights Gardens & Villa, Saturday played out like a good-vibrations lovefest. Bands mingled, friends reconvened, and kids ruled the dance floor. Oh, and Los Angeles dream-pop quartet Sisu stole our hearts with their doomy atmospherics and stunning stage presence.
Saturday closed out with two high-impact weekend enders: Ozomatli at SOhO and the long-awaited return of Santa Barbara rockers Nerfherder at Velvet Jones. No matter where you ended up, you likely danced your face off. So thanks, New Noise, for forever proving that the scene is alive and well.