Briefs
Amgen Tour Returns to Santa Barbara
City Will Host Two Main Stages in May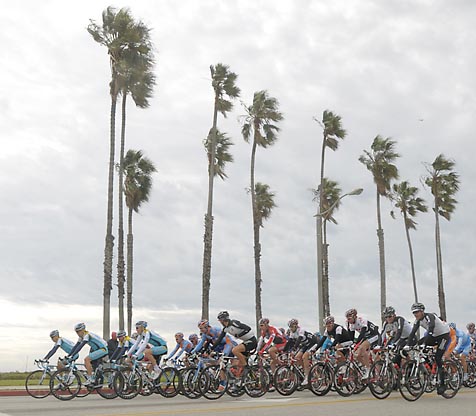 Three months from now, Santa Barbara will be the nexus for two key stages of the 2013 Amgen Tour of California, America's most ballyhooed professional cycling race. The buildup for the event began Tuesday with the announcement of the route for the eight-day, 750-mile stage race. For the first time since its inception in 2006, the Amgen Tour will ride from south to north. It begins May 12 in Escondido. Stage 4 will start Wednesday, May 15, in Santa Clarita and will finish 84.7 miles away on Cabrillo Boulevard in Santa Barbara. The riders and support crews will spend the night here, then line up on Cabrillo Boulevard at 11 a.m. Thursday, May 16, for the start of Stage 5, a 116.4-mile race to Avila Beach. The concluding stage May 19 will be San Francisco to Santa Rosa.
It has been five years since the Amgen Tour last visited Santa Barbara. The city hosted a finish and start of the first tour in 2006, and two stage sendoffs in 2007 and 2008. Since then, the race moved from February to May, a more desirable time for the city to commit resources to the event. "I'm thrilled," Mayor Helene Schneider said Tuesday. "It's a lot of fun and a great economic boon, coming midweek before the high [tourist] season." Each stage will be televised nationally, and Schneider said, "People around the country will think about Santa Barbara" when the race brings the city into view.
Barney Berglund, chairman of the local organizing committee for the Amgen Tour, enlisted the support of the Conference & Visitors Bureau to bring the tour back to town. It was well received in Bakersfield last year, but Berglund said, "AEG [the conglomerate that owns the tour] wanted to come back to the coast and show a great backdrop for the race." In coming weeks, sponsorships and volunteers will be sought to shore up the local effort. Fess Parker's DoubleTree Resort will serve as headquarters for the racing teams. There will be a public "Breakaway Mile" walk preceding the May 15 finish as part of Amgen's Breakaway from Cancer initiative.
The local enthusiasm for cycling entered into the calculation that the Amgen Tour will be good for Santa Barbara. Schneider noted that it will occur in the midst of CycleMAYnia, a month-long celebration of bicycling in the community. The mayor coined a term for the symbiotic relationship between cycling and the Santa Barbara lifestyle: "Bikey-psyche."