Briefs
Public School Kids Learn About the S.B. Watershed
Take Kayak Tour and Visit Ty Warner Sea Center
The fifth grade classes of McKinley Elementary School were all smiles when they recently got the chance to explore the Santa Barbara Harbor as part of a federally funded marine education initiative. As part of the program From Side Streams to Sea: The Health of a Watershed, Santa Barbara Channelkeeper and the Santa Barbara Museum of Natural History teamed up with the Santa Barbara Adventure Company to teach kids about the ocean environment. They came from typically underfunded schools such as Adams, Franklin, and McKinley.
The NOAA California Bay Watershed Education and Training Program allocated the grant for the hands-on and educational experience about maintaining a sustainable marine ecosystem. The B-WET program, which initially started in Chesapeake Bay, according to Alex Bereda with the Museum of Natural History, educates students about their local watersheds.
"One of the most significant environmental issues in our region is the impact of personal actions upon our watershed and coastal health," the museum said in a statement. "A sense of personal responsibility for our natural world can only be gained through the development of a personal connection with it."
To instill a more personal connection to watersheds, members of the Ty Warner Sea Center led groups of students down to the Mission Creek Lagoon and the base of the Mission Creek watershed, an area that collects a lot of polluted runoff. "We want them to know their choices matter," Bereda said. According to members of the museum, the water is regularly contaminated with cigarettes, animal feces, and other trash. There, the students surveyed and tested the quality of the water for clarity, pH levels, and salinity.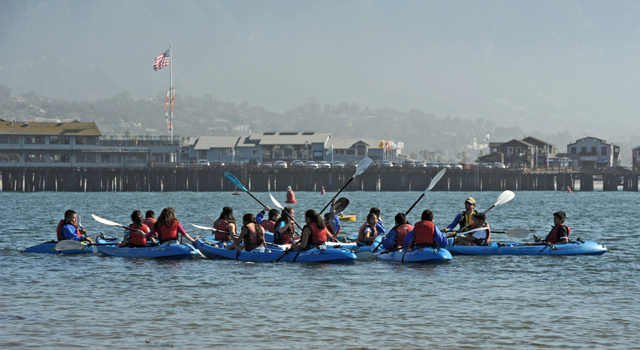 Thanks to the Santa Barbara Adventure Company, the students got into two-person kayaks as guides led them throughout the harbor. The guides made regular stops to deliver short quizzes and teach the students about local ecosystems and marine animals native to Santa Barbara. After the kayak tours, students visited the Ty Warner Sea Center, where they examined a number of marine invertebrate and shark touch tanks, a Wet Deck exhibit, and a water quality testing center.
Michael Cohen, owner and director of the Santa Barbara Adventure Company, appeared grateful to be able to help students who might not otherwise get out on the water. "The Santa Barbara Adventure Company is proud to work with Channelkeepers and the Ty Warner Sea Center to bring this awesome outdoor education program to local kids from these public schools," he said. "This was many students' first time kayaking. To see their excitement and enthusiasm for learning about the ocean firsthand is really encouraging. If these kids love the ocean, they will take care of it in the future." See sbadventureco.com.