Frankie is a one-year-old, neutered male, blue shar-pei mix. He has lots of energy and would make a great hiking or running partner. He thrives on attention and is very trainable. Frankie came to DAWG with entropic eyelids, which means his eyelids were turned inward, scratching his eyeballs. His eyelids were recently corrected by surgery and he is on the mend. He is out and playing and is ready to find his forever home! Come meet the amazing Frankie at DAWG!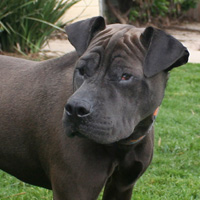 You can view more adoptable dogs at www.sbdawg.org.  All of the dogs have been spayed/neutered, micro-chipped, are current on their shots, and have flea/tick/mosquito protection. We ask for a minimum adoption donation of $250 for young dogs (under three years), $150 for adult dogs, and $125 for seniors (dogs 8 years old and over).
DAWG (Dog Adoption and Welfare Group) is a no-kill not for profit dog rescue/adoption organization.
For more information on our available dogs, call (805) 681-0561; email adopt@sbdawg.org; or stop by DAWG at 5480 Overpass Road during open adoption hours, Thursday-Monday, noon-5 p.m.