Food & Drink
Figueroa Mountain Brewing Co. Opens in the Funk Zone
Buellton's Beloved Tap Room Brings the Party to S.B.
Move over, winos; there's a new tap in town. Two weekends ago, as the Memorial Day masses converged on Santa Barbara's Urban Wine Trail, Figueroa Mountain Brewing Co. quietly unveiled its new digs. The tasting room, located at 137 Anacapa Street in the Funk Zone, is the second brick-and-mortar spot for the brewery, whose Buellton flagship has gathered its fair share of beer-loving followers in recent years.
Over the course of the holiday weekend, Fig hosted a series of semi-soft openings for its new home turf. (The official grand opening took place this past Sunday, June 2.) And by Memorial Day proper, the location's expansive 32-tap menu was attracting folks in droves. For many, Figueroa's unveiling has been a long time coming (initial rumors had doors opening back in January), but those who turned out for Monday's happy hour didn't seem to mind much. In addition to a regular, eight-beer tasting menu, which features Fig faves like its extra-hoppy Hoppy Poppy IPA and meh Danish Red Lager, the new tasting room offers an impressive 32 taps, including rotating specials like the smoky, chocolaty Rusty Bagpipe ale.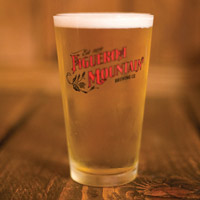 Vibe-wise, the Anacapa tasting room pulls straight from Fig's Santa Ynez Valley roots. Think raw wood, cement floors, vintage-inspired filament light bulbs, and horseshoe accoutrements. As the place was quite literally overflowing pre–actual opening, you can expect this to be a hotspot for many months to come. We suggest picking an off-hour and checking it out ASAP — or holding off until the lines die down a bit.
4•1•1
Figueroa Mountain Brewing Co.'s Santa Barbara tasting room is located at 137 Anacapa Street in the Funk Zone. For info and hours, call (805) 694-2255 or visit figmtnbrew.com.