Wanda is a three-year-old short-haired, muted torti girl with light green eyes, a tan patch next to her nose, and another tan stripe down her chest.d She is timid and shy and may growl at you at first to warn you, so you'll need to go slowly and gently with her, but she's just making noise an doesn't really mean it. Once she trusts you, she will rub her face all over your hand in affection. Wanda is looking for a quiet home and someone patient and gentle to help her come out of her shell.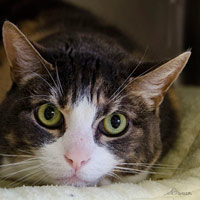 The following is included in the adoption fee at ASAP: Spay or neuter surgery, Flea treatment, Vaccinations, Microchipping, Health evaluation, including testing for Feline Leukemia (FeLV) and Feline Immunodeficiency Virus (FIV). Cats thought to be 10 years or older receive a full blood panel evaluation, thus assuring that the cat is indeed healthy and adoptable, Medical and drug coverage through ASAP's vet for two weeks beyond adoption, if necessary, Temperament evaluation and Cat Carrier (you can save the County money by bringing your own).
To meet Wanda and other available cats needing loving homes, visit ASAP at the Santa Barbara County Animal Shelter, 5473 Overpass Road. Weekdays, 9 a.m.- 4:45 p.m.; Saturdays, 10 a.m.-4 p.m. For more information, call the ASAP office at 683-3368 or visit website at www.asapcats.org.
Animal Shelter Assistance Program (ASAP) is a volunteer-based, nonprofit organization that takes care of the cats and kittens at the Santa Barbara County Animal Shelter. ASAP provides humane care for these animals and works to eliminate the practice of euthanizing them for reasons other than serious health or behavior problems.