Minnie is a year old 14-pound female terrier/doxie mix. She's a pretty, light caramel colored dog with curly hair. Anyone who admires the terrier's tenacity, determination, and independent thinking will love this girl. She gets along well with other big dogs; but is tentative with people until she gets to know them, then she is a total sweetheart. She is quick to voice her opinions and desires, quite a little communicator. She enjoys company around her, and is too sociable to be happy staying home alone all day. Minnie would be best in a home with young adults and another big dog friend! She's a sweet heart who has been looking for her forever home just too long! Come to meet Minnie at DAWG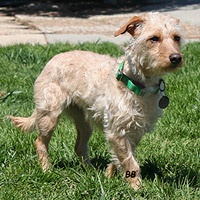 DAWG (Dog Adoption and Welfare Group) is a no-kill not for profit dog rescue/adoption organization. All of the dogs have been spayed/neutered, micro-chipped, are current on their shots, and have flea/tick/mosquito protection. We ask for a minimum adoption donation of $250 for young dogs (under three years), $150 for adult dogs, and $125 for seniors (dogs 8 years old and over).
You can view more adoptable dogs at www.sbdawg.org. For more information on our available dogs, call (805) 681-0561; email adopt@sbdawg.org; or come by 5480 Overpass Rd. during open adoption hours, Thursday-Monday, 12 p.m.-5 p.m.