Briefs
Green Light for Highway 101 Widening
Push for Changes, More Study Overwhelmingly Defeated
What Caltrans director Malcolm Dougherty wanted most for Christmas was "a statement of consensus" — not to mention a clear sense of momentum — from elected officials throughout Santa Barbara County in support of Caltrans's plans to widen Highway 101 and to add a carpool lane from Carpinteria to Montecito. This Thursday — well after most Christmas trees have come down — Dougherty got everything he wanted.
And then some.
The Santa Barbara County Association of Governments (SBCAG) board — made up of the five county supervisors and elected representatives from each of the county's eight cities — voted 11-to-2 to embrace Caltrans's current plan and to reject separate but overlapping demands from the City of Santa Barbara and the Montecito Association to make significant changes and to study the project some more. The majority argued the project needed to proceed without delay to alleviate the pain and misery suffered by thousands of motorists stuck in rush-hour gridlock every day. The widening, they argued, would be good for tourism, employers, workers, farmers, Vandenberg Air Force Base, and anyone else stuck on the freeway. Mostly, they said, they owed it to the 79 percent of voters who agreed to tax themselves back in 2008 — by approving Measure A — and to spend $140 million on the freeway widening.
The Montecito Association — as well as its political alter ego, Common Sense 101 — wanted the project amended to keep the existing left-lane ramps by the Cabrillo/Hot Springs and Sheffield interchanges. The City of Santa Barbara demanded that Caltrans redesign the project to include — and pay for — the widening of the Union Pacific Railroad bridge by the city's bird refuge. On December 17, Dougherty issued a lengthy letter telling both to pound sand. He declared that the existing left-lane ramps confound driver expectations and are inherently not as safe as right-hand ramps; they would not be part of any Caltrans project. Likewise, he rejected City Hall's demands, insisting that those changes — which he acknowledged had merit — needed to be pursued separately.
This week's extremely lopsided vote stands in stark contrast to the exceedingly narrow 7-6 decision rendered by the same board in May when SBCAG last visited the same issues. At that time, the board went the other way, instructing Caltrans and the SBCAG board to meet with representatives from City Hall and the Montecito Association to hash out these remaining issues. They also voted in favor of recirculating the environmental document, if need be. While many of the SBCAG boardmembers were far from convinced that such hashing out took place to the extent that they wanted, most were unwilling to call Dougherty's implied bluff. "Is he going to take his ball and go home?" asked Supervisor Salud Carbajal — whose district includes Montecito — in an interview before the vote. "I don't know. But I don't want to find out." Carbajal — who made the motion to endorse Caltrans's plans Thursday — said he was convinced by Caltrans's argument that the proposed changes could set the freeway widening back by as long as six years and many millions of dollars. Likewise Carbajal said he had been told by Governor Jerry Brown's staff that Dougherty's letter — and the Caltrans plan — had the governor's full blessing and support.
In making the motion to support Caltrans's plan, Carbajal argued that the bridge widening sought by City Hall — not to mention a San Ysidro Road interchange and a roundabout for the intersection of Olive Mill and Coast Village roads — should be pursued separately and concurrently, leaving open the $64 million question (or close to it) where the money for such projects might come from.
In supporting Carbajal's motion, 3rd District Supervisor Doreen Farr acknowledged the project's shortcoming and Caltrans's many imperfections, but said she ultimately felt compelled "to keep the faith of the voters," referring to the 2008 Measure A election, in which county residents agreed to tax themselves to the tune of $1.2 billion over the next 30 years to pay for various transportation projects, most notably the freeway widening. At a time when elected officials are considering whether to take other tax measures to Santa Barbara voters, the risks of breaking that faith — or even appearing to — carries obvious risks not lost on anyone in the hearing room. Solvang Mayor Jim Richardson added, "Promises were made to widen Highway 101, and that needs to be completed."
Since the May meeting, which Dougherty flew down from Sacramento to speak at, the lobbying by all sides on the biggest and most significant public-works project to hit the South Coast in decades — weighing in at an estimated $425 million — has been nonstop and furious. Although the terms of the debate have been wonky and weedy in the extreme — intelligible only to traffic engineers — the politics has been bruising and personal. Santa Barbara Mayor Helene Schneider emerged as Caltrans's loudest and most relentless critic, frequently complaining that past promises made by Caltrans and SBCAG to widen the Union Pacific bridge were never delivered. "Fool me once, shame on you," she's frequently said. "Fool me twice, shame on me." Only by getting the bridge work included as part of the official project description, Schneider insisted, could City Hall have confidence that funding for the job — estimated between $15 million and $20 million — would ever materialize.
But Schneider's message was complicated by the fact that her campaign consultant and longtime political confidant Jeremy Lindaman was also the paid political consultant for Common Sense 101, the Montecito group lobbying to retain the left-lane ramps. Among local politicos, Lindaman — shrewd and combative — has emerged as a polarizing figure in recent years. The backstory to the Highway 101 fight almost eclipsed the issue itself: Was Schneider hoping to score political points with rich Montecito donors as part of her — and Lindaman's — long-term political ambitions? Was she trying to show up Carbajal in front of his constituents? And had Lindaman, the high-profile lighting rod, become the tail wagging Schneider's dog? While such questions became the source of incessant speculation in political circles, certain facts clearly emerged: City Hall's critique of the Caltrans plan got lost in the din of Common Sense 101's objections. And relations between Schneider and Carbajal — strained since Carbajal declined to endorse Schneider in March for if and when he eventually and inevitably runs for Congress and she runs for his seat — have degenerated to the barely talking stage.
While Caltrans supporters have seized on this melodrama as a handy excuse to dismiss Schneider's arguments, the fact remains that City Hall — from left to right and top to bottom — has been uncommonly united in its objections to key elements of the Caltrans plan. City Administrator Jim Armstrong voiced similar concerns during his 10-minute presentation to the SBCAG board. He noted the city's planning commission voted unanimously that the Union Pacific bridge absolutely needs to be part of the widening project description. Without that, the commissioners have objected, funding is uncertain. And City Hall's senior traffic planner, Rob Dayton — unleashed and unmuzzled in recent months — was given free reign to attack Caltrans's draft environmental report.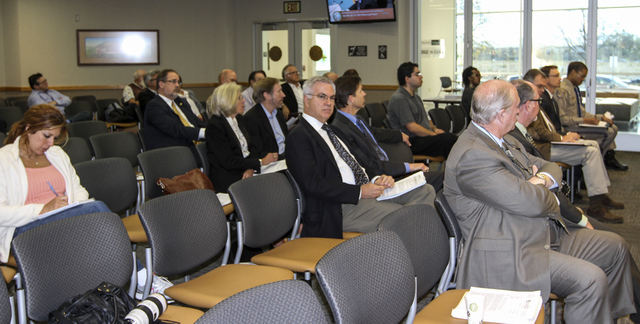 Dayton has contended that Caltrans's own studies demonstrate the extra road capacity created by the freeway widening will cause traffic to back up once motorists hit the city limits. Santa Barbara interchanges will be choked. And city streets will be clogged with drivers seeking shortcuts through Santa Barbara neighborhoods. This information, he and the planning commission have insisted, needs to be included front and center in any environmental report. Instead, he complained, it's barely alluded to in less than a sentence. Caltrans has insisted that Santa Barbara's traffic congestion would be even worse than that if no project were built, but its engineers have acknowledged that there will be "trade-offs." Even Councilmember Dale Francisco — the council's most conservative member and who is now seeking the Republican Party nomination to run for Congress — made the trek to Santa Maria this Thursday to speak against the Caltrans project as proposed. Without the bridge widening included, he warned SBCAG, City Hall would not issue the coastal development permit that will eventually be necessary for the project to move forward.
This was the drum that Schneider beat on Thursday with her fellow SBCAG boardmembers. Without clear and convincing guarantees that the Union Pacific bridge would be funded, Schneider said she could not bring herself to vote for Carbajal's measure. "I don't think saying, 'Okay, Caltrans, you win,' will make them double up and make that happen," she said. Although Schneider came up far shorter than she or Lindaman expected, her fellow boardmembers took pains to reach out with olive branches. One asked her what language could be added — short of recirculating the environmental impact report and changing the project description — that could win her vote. Supervisor Steve Lavagnino promised as the new chair of the SBCAG board to do everything he could to help her secure the funding for the bridge widening.
Money, as always, was the root of contention. Not only did SBCAG commit $140 million to the freeway-widening and carpool-lane project, but it also committed $135 million in state and federal gas tax revenues that would otherwise have funded major road-capacity-improvement projects throughout the county. Without those gas-tax revenues, public works departments throughout the county will be forced to forgo certain projects for the next 30 years or find alternative funding. Supervisor Peter Adam — who is making the county's deteriorating road conditions the focus of a ballot initiative — seized on this in casting the only other vote against Carbajal's consensus motion. "Caltrans is the owner of this thing," Adam said of the freeway project, "but we're going to pay for over half of it. I find that a little disturbing. Maybe more than a little bit."
Offering the most biting rebuttal to Adam's concern was North County activist Andy Caldwell of COLAB, whose support for Measure A proved vital to its passage in 2008. Caldwell noted with his customary rhetorical flourish that the last page of the Measure A ballot statement — which was mailed out to county voters — explicitly acknowledged that SBCAG would be using state and federal gas-tax revenues as matching funds to build the freeway widening, as well as a raft of other projects that Measure A revenues would help fund. Supervisor Lavagnino acknowledged that the ballot language may not have spelled out the new realities in a way that the average reader could grasp. But even they understood the significant sacrifice that entailed, he said, "I firmly believe the majority of people would be with us today."
In the battle for the board's hearts and minds, SBCAG and Carbajal clearly out-hustled and out-muscled a well-financed opposition endowed with political connections all the way up to the governor's office. More than that, one of its key players — Ron Pulice — formerly ran a family-owned construction company that built hundreds of freeway miles in Arizona, giving him the stature and professional credibility to go toe-to-toe with Caltrans's experts. They argued — with solid evidence — that the safety record of the left-lane ramps was far better than Caltrans asserted. By retaining those ramps, the Montecito activists argued, the project could be built two years faster and $60 million cheaper. But Caltrans engineers said the cost saving would be negligible and pointed out that the left-lane ramps could be retained only by cutting short the carpool lane. This alternative inflamed transportation activists with groups like COAST, who noted that they would never have supported Measure A if the carpool lane had not been included. Without their support, they added, Measure A could not have passed.
Supporters of the freeway widening argued Common Sense 101's real agenda was to kill the project — not change it — just the same way Montecitans killed the last freeway-widening effort in 1992. (In that effort, Caltrans fully embodied the jack-booted bureaucracy of its stereotype and the photo simulations of what the project would look like — provided by Caltrans itself — were devastatingly bleak.) In recent months, freelance reporter and writer Ann Louise Bardach has jumped into the fray, bending ears and twisting arms against the Montecito opposition. At Thursday's meeting, Bardach lambasted the Montecito activists as entitled "one-percenters" — rich, white, old, and exclusively male — suggesting at one point that members of the Montecito opposition were impervious to the agonies of gridlock as they could hire people to be stuck in traffic in their stead. Nor did it help the opposition when Sara Miller McCune, a wealthy philanthropist and politically influential player of considerable reach, privately took Schneider to task and publicly rebuked the opposition for holding the freeway improvement "hostage." The final nails in the coffin came last week when Assemblymember Das Williams, State Senator Hannah-Beth Jackson — liberal stalwarts of the Democratic Party and the Santa Barbara Democratic Central Committee itself — all came out against further delays.
The next step is for Caltrans to certify its draft environmental impact report. At that point, Caltrans and SBCAG can begin in earnest the final design work and searching far and wide for the $150 million still needed to cover the estimated cost of construction. It remains to be seen whether the Montecito Association or Common Sense 101 will file a lawsuit challenging the adequacy of the environmental analysis, though SBCAG strategists assume such an attack is inevitable. Supervisor Janet Wolf didn't get in the last word — that distinction went to Goleta Councilmember Roger Aceves and her rival in this year's supervisorial race — but she may as well have. "I'm glad we're at this point," she said. "It's like just move forward, drive safely, and let's get on with it."