Living
Scene in S.B.
Vera Cruz & Vandenberg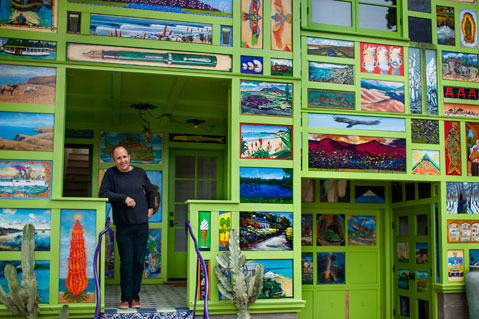 "This whole thing happened with faith. I didn't advertise for the artists; it was all just a funny momentum," said Jeff Shelton, the architect behind the "Vera Cruz Project." The house on Santa Barbara Street, which used to be an empty lot, will ultimately boast 400 paintings with the theme "a place you've vacationed." "Whether it's a grand story, or a little moment, everyone had something to paint, so I'm really glad there was a theme," said Shelton. "I told people no dolphins or clowns though!"
Breanna and Andrew Winter relax at Chase Palm Park after a day of celebrating Breanna's birthday. "I just got drowned by the ocean, and now we're about to go to Dargan's, which is where we celebrated our wedding!" said Breanna, a full-time student working toward becoming an elementary school teacher. The two live at Vandenberg AFB where Andrew, who will be deploying at the end of the month, is a military police officer.