Theater
Review: Hamlet at Center Stage Theater
Lit Moon Theatre Company Revives Shakespeare's Greatest Play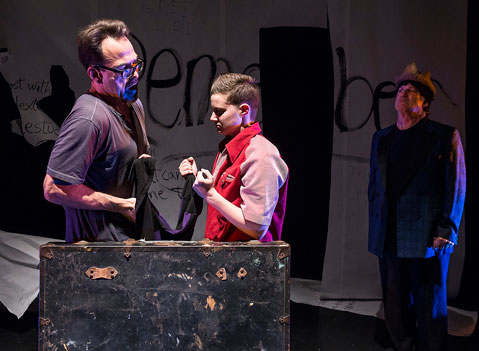 The term "avant-garde classic" isn't quite the oxymoron it used to be, but it's still rare to find a startling, groundbreaking work that not only withstands the test of time but also grows in stature as the years go by. That's a fair description of Lit Moon Theatre Company's production of Hamlet, first staged in 2001 and bracingly revived this past weekend at Center Stage Theater.
John Blondell's staging, featuring a brilliant scenic design by the late Milon Kalis, is traveling to the Beijing Shakespeare Festival in the fall. It's hard to know what Chinese audiences will make of it, but Westerners who are familiar with the play — which should be everybody — will find it both startling and startlingly effective.
It's a deconstruction (to use the scholarly term) or mash-up (in the vernacular) of the great tragedy, in which scenes, speeches, and individual lines are either excised (the whole thing clocks in at a brisk 80 minutes) or plucked from their original context and placed elsewhere in the narrative.
While the story is told in a more-or-less linear way, these jarring juxtapositions help us hear Shakespeare's unparalleled language in fresh ways. Example: At several points, Hamlet begins his famous "To be or not to be" soliloquy, only to have it interrupted — a nice metaphor for the way our busy, information-saturated culture makes contemplation nearly impossible. Granted, this sort of thing can be too clever for its own good. But in returning to this piece, Blondell has given the production an emotional weight I don't remember from past mountings.
In the title role, Jeff Mills conveys the essence of the character: his searching mind and desperate need to unravel the mystery before him, which in many ways is the mystery of life. He's sitting in the audience as the play begins, a choice that emphasizes Hamlet's role as everyman; he's literally one of us. Victoria Finlayson gives consistently moving portrayals of both Ophelia (Hamlet's lover) and Gertrude (his mother — make of that symbolic cross-casting what you will).
The production does go a bit off the tracks in one sequence, in which Sara Jessica Reynolds, playing Ophelia's father Polonius, dons a ridiculous-looking white wig, which subsequently gets used in a vaudeville-inspired juggling routine. The prop and shtick would be perfect for Beckett but seem silly and out of place here. Still, it's the only bit that took me out of the story.
Otherwise, the costumes are unconventional (Hamlet is not in black!), but perfect for the characters. Jim Connolly's score matches the production in terms of both its intensity and creativity. Blondell promises to bring Hamlet back once more before the troupe heads to Asia; serious theater fans should not miss it.