Arts & Entertainment
Review: A$AP Ferg at La Casa de la Raza
Flatbush Zombies Joined the Trap Lord on Tuesday, April 15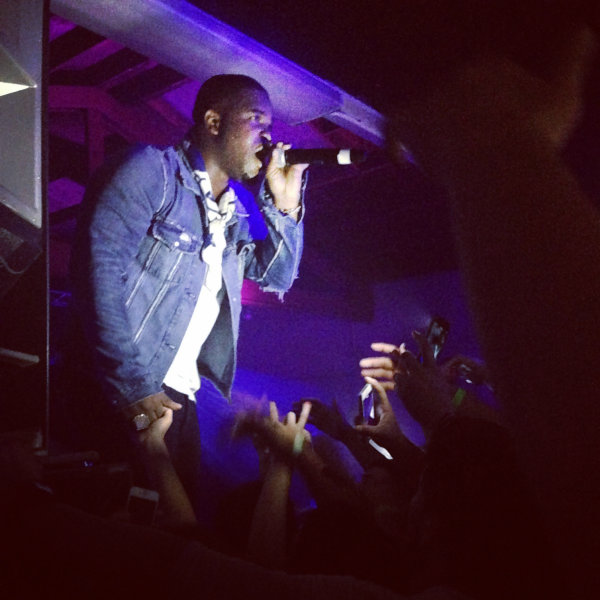 When most saw the line around the block, they worried. The venue, La Casa de la Raza, was at capacity, at a number significantly higher than a "sold out" show that took place there a few years earlier. Inside the climate was hot and muggy as supporting psychedelic hip-hop act Flatbush Zombies finished their opening peformance. The Zombies would later reemerge during a break between sets, which stretched on in order for everyone outside to get in. Meanwhile, the Flatbush fellas took to the merch table to sell their remaining small and extra-small tie-dye t-shirts and engage with fans in a manner that was entirely cordial and earnest. Things were lit and passed at the back of the expansive room, while the DJ offered up a pre-show collection of tracks from Chicago's Chief Keef, Atlanta's Future, and Kanye West. After a few short conversations the Zombie departed, distributing daps, hugs, and selfies all the way to the door.
Despite the crowd's imposing size (and relative hostility) at the door, once inside everything remained harmonious, save for one attendee, who took to standing on the merch table to see the show better.
When A$AP Ferg finally made his entrance at a little past 11 p.m., the eruption from the crowd was contagious — not aggressive, but wholly celebratory. In order to better see the whole crowd from the nearly floor-level stage, Ferg stood atop some sort of platform, beside a tower of a sparks, looking appropriately Pontiff-like.
A$AP shows have a reputation, much in the same way Odd Future shows do. That is to say, these are mosh shows, and A$AP Ferg's command of the mosh-pit, like Moses over the Red Sea, was truly a sight to behold. The floor opened up at his command, and kids were more than happy to chant the hooks to singles like "Shabba" and "Work (Remix)" as he reigned over the proceedings.
And for everything that the crowd at Casa de la Raza gave A$AP Ferg, he repaid them in kind. He played his new song ("Dope Lord"), performed two of his esteemed colleague A$AP Rocky's tracks, brought out fellow A$AP Mob member Marty Baller, and welcomed one esteem fan to join him above the throngs. (Said fan also granted Ferg permission to shove him back into the crowd shortly thereafter.) Moments before his performance of "Hood Pope," he implored the crowd to raise their lighters, offering the track up "to all of [the] fallen soldiers."
"If I come and party with you, will you take care of me?," he asked before leaping into the crowd, where he floated atop the crowd for what felt like an hour.
At the end of the night, the room couldn't have been hotter or muggier. In the same way that Ferg said that the venue reminded him of his early garage shows, I found myself reminiscing about lifting the sweat-covered shirt off my back at the end of the hardcore concerts of my youth. It wasn't mosh-pit violence or aggression — Tuesday's show was about catharsis. And on our way out of the venue, I heard at least one fan say, "That was totally worth the wait."