There are few better examples of the marriage between form and function than the modern bicycle. It is no surprise then when cyclists enjoy creating art pieces as much as riding atop them. Case in point is L.A.-based illustrator and bike messenger Scott Free.
Free usually makes the trek to Santa Barbara for one reason: He won't let anyone other than Cranky's Bikes owner Jim Cadenhead — whom he's known since the two were both bike messengers in Los Angeles — assemble his bikes. This Saturday, however, he's coming with a cause. Free has compiled a coloring book full of drawing completed by himself and other messengers from around the world.
He's hoping that sales from a first run will enable him to print more to hand out to children as he makes a five-day 400-mile trek from the indigenous town of Nochistlan, Mexico to the Cycle Messenger World Championship in Mexico City later this month. During this journey, to be filmed by the daredevil documentarian Lucas Brunelle, Free aims to inspire more bicycling among children in Mexico where, he says, automobiles are even more fetishized than they are in the United States.
For better and worse, messengers exist on the outskirts of the mainstream cycling community. Their risky behavior and roughhewn urban aesthetic can be off-putting to some, but they have inspired a generation of cyclists who entered into the activity of road-riding via the fixed gear bikes that messengers first popularized.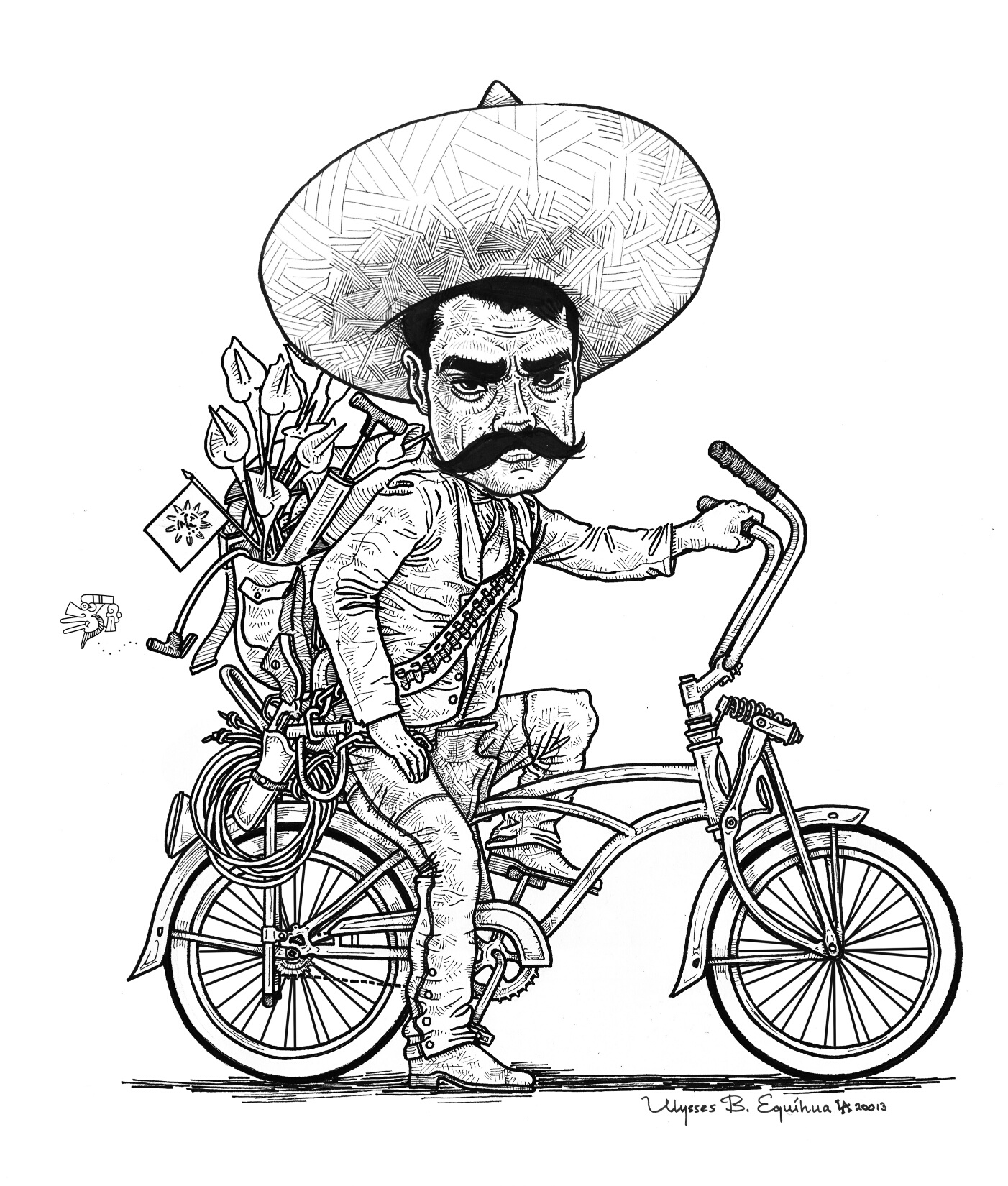 This is evident in the drawings that Free has curated for his book. Winnie-the-Pooh and Eeyore they ain't. The images invoke the jagged edges of knuckles and barbed wire reminiscent of tattoo parlors mixed in with equal doses of influence from social protest art and the youthful playfulness of Saturday morning cartoons.
"It really takes a messenger to have a certain grit," Free told the Santa Barbara Independent during a conversation last week. "I think we have a unique perspective. We're really vulnerable at times, but once we overcome that vulnerability, we thrive."
Free was talking about the dangers of riding in traffic exposed to the elements, but he was also consciously shaping a metaphor for the creation of art.
4•1•1
Free will sell copies of his messenger art coloring book at Cranky's Bikes (1014 State Str.) on Saturday, May 10 from 4-7 p.m. For more info, call (805) 963-7433.