Arts & Entertainment
Review: Outside Lands Day Two
Macklemore & Ryan Lewis Go Head-to-Head with Tom Petty in Golden Gate Park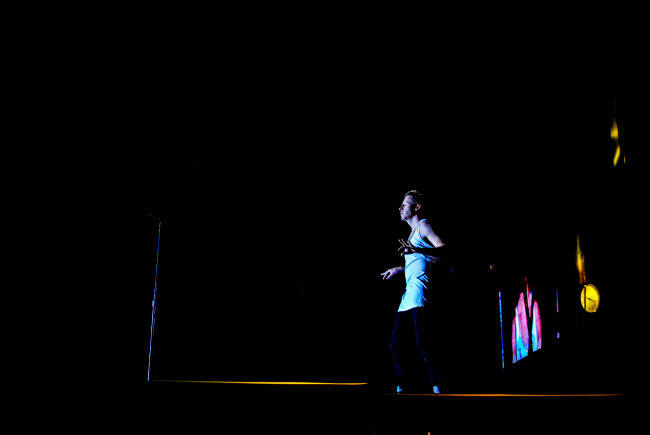 After two days, the commercial success of Outside Lands seems to be made more and more obvious with each walk past the festival's massive food court. Procedurally, the flow of VIPs in and out of the many exclusive viewing areas is usually frantic, with a more-than-adequately-staffed security service checking wristbands on a minute-by-minute basis. But the longish food lines go quickly (especially at the booths that are PayPal enabled), and the sheer volume of drink booths made $8 beers and $3 bottles of water more readily available than Port-A-Potties.
As for the music, acceptable performances from Dum Dum Girls, Local Natives, and Deer Tick all served to provide nice ambiance for long lines at the farm-to-table and wood-fire pizza booths. Haim continued their yearlong festival push by showcasing the same cooperative drums skills they busted out as part of New Noise Santa Barbara last fall. Capitol Cities also drew one of the day's largest crowds — a surprise to those who still think that they're the same band as The Naked and Famous. And Seattle's Death Cab for Cutie conquered their 6 p.m. slot, even conjuring a surprising bit of nostalgia for this reviewer.
The disco-house jams of deejay duo Duck Sauce (composed of A-Trak and Armand Van Helden) provided a bright spot in the otherwise chilly, foggy, and underwhelming Saturday lineup. Over the course of their set, the pair threw hundreds of rubber duckbills into the crowd, and elicited a whole lot of dancing and woo-wooing across the festival's main field with their hit "Barbara Streisand." Despite a slight delay and some technical difficulties imposed by a giant inflatable duck with lasers for eyes, the duo's hour-long set was a fitting exhibition of the cultural genius of A-Track and Van Helden's combined power.
After all of the cartoonish dance vibes dispersed, the end of the evening would be, fittingly, given over to Grammy Award–winning rapper Macklemore and noted hat-wearer Ryan Lewis. After a seven-minute piano overture intro, a tank-topped Macklemore emerged, his signature tuft of hair looking thinner in person than on his ESPN commercials.
"I played this festival two years ago," the emcee recalled after performing his remix of Red Hot Chili Peppers' "Otherside." "We were one of the first acts. And now we're back, because I know that this is one of the best festivals in the country," he went on, proving himself the ideal hip-hop headliner for Outside Lands. Later, he asked the crowd if they "loved this hip-hop music," then regaled us with perhaps the least hip-hop hip-hop song of all time, "Thrift Shop."
But exiting the park following Tom Petty and the Heartbreakers' and Macklemore's dueling headline sets exemplified why the best part of Outside Lands is the venue. The park is beautiful, with each side surrounded by richly wooded areas that are brilliantly lit up by the festival's production savants. Directly beyond that, though, is San Francisco's bustling Sunset District, which means Uber cars are lined up for miles, just waiting to take guests back to their hotels and friend's couches. Here's hoping for tomorrow, the festival's third and most promising day — and not just because I've already downloaded a pizza coupon on my iPhone.