Briefs
LUXhelmet Competes in Global StartUp Match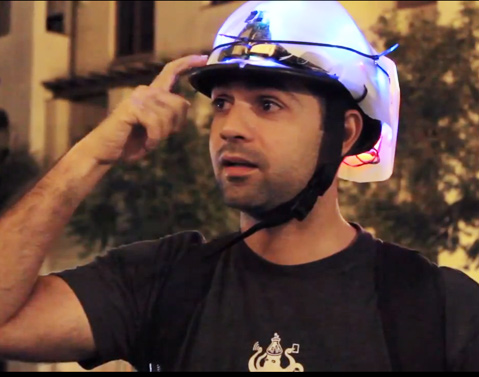 Getting bicyclist visibility up top and all lit up, the LUXhelmet — designed by an architect and a team of high school students — puts together an LED-lit helmet with an automatic brake light and could redefine the idea of "whatever gets you through the night" — if it gets funding. The Best Physical Product winner at Santa Barbara's fourth StartUp Weekend needs enough popular votes to get to Global StartUp finals — as well as the judges' nod — both of which would lead to a championship faceoff.
At November's StartUp Weekend, Santa Barbara High School students Makala Hieshima, Max Mercurio, and Maria De Angelis paired up with architect Alex Wyndham, who had brought along his bike helmet dotted with LEDs and covered by a translucent milk jug to turn it into a night light. Together they developed an LED-encased helmet with Mercurio's addition of an accelerometer to activate a brake light when the rider slows. The group had 54 hours to create a business model — LUX Technology — to build and market the helmet, which included construction and programming of a prototype, and also to prepare a 60-second pitch and five-minute presentation. The students, members of SBHS's Robotics Club, completed a second prototype, which can be seen in this video. The business model was rounded out with the marketing talents of Jill Courtenay (BOS LLC), Alison Antoinette (Juice Club), and Grant Pfund (Kelley School of Business, Indiana U).
Wyndham described the prototype as something any night-working, hard-hat-wearing person could use, whether a Caltrans worker, firefighter, or aircraft ground marshal. The addition of the tiny lights, accelerometer, and AA batteries to power them only added a few ounces to the total weight of the helmet, he said, projecting that the final design could even be a versatile cover for any hard hat.
Voting ends Wednesday, December 3, to help get these homegrown entrepreneurs toward their goal.