Briefs
News-Press Vandalized for 'Illegals' Headline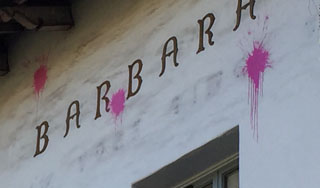 In response to a controversial headline the Santa Barbara News-Press published over the weekend, vandals defaced the outside of the paper's offices with graffiti and paint splatters last night. The front-page headline, which ran above a story about a new law that allows state residents to apply for a driver's license without having to prove citizenship, read: "Illegals line up for driver's licenses." Critics have argued the language was intentionally racist and editorially incorrect.
Scrawled on the News-Press's building and along nearby sidewalks close to City Hall were the messages: "The Border is Illegal, Not the People Who Cross It" and "Fight Back" (with a smiley face underneath). Two URLs were also written: ImagineNoBorders.org and NoOneIsIllegal.org. A number of paint splatters, whether from a paintball gun or lobbed paint bombs, also dotted the building's façade. The paint has since been removed.
Police said the vandalism occurred sometime between 7 p.m. Wednesday night and 7 a.m. Thursday morning. City Hall staff reported it to police, who estimated the damage at around $1,400. There are no security cameras outside the News-Press, and police have not identified any suspects. News-Press editors have not responded to requests for comment. A news article written by city editor Scott Steepleton about the incident focused on issues of free speech and compared the vandalism to the Charlie Hebdo murders.
In a statement to Fox News, director of operations Donald Katich said: "It has been the practice for nearly 10 years at the Santa Barbara News-Press to describe people living in this country illegally as 'illegals' regardless of their country of origin. This practice is under fire by some immigration groups who believe that this term is demeaning and does not accurately reflect the status of 'undocumented immigrants,' one of several terms other media use to describe people in the Unites [sic] States illegally. … It is an appropriate term in describing someone as 'illegal' if they are in this country illegally."
A protest over the headline and the paper's nonresponse to demands for a retraction is planned for tonight at 6 p.m. Around 650 people have registered on the event's Facebook page. A petition for a retraction has nearly 2,800 signatures. Organizers have frequently noted that the Associated Press (AP) dropped the phrase "illegal immigrant" from its stylebook in 2013; they say it unfairly labels and dehumanizes those it describes.
Police spokesperson Sgt. Riley Harwood said officers will be closely monitoring tonight's protest and are "prepared to deal with any criminal issues that arise, such as graffiti, vandalism, or trespassing." Harwood said if demonstrators decide to march through city streets, police will be there to help facilitate and ensure a peaceful event.