Briefs
Paving Company Owner, Wife, and Employee Charged with Insurance Fraud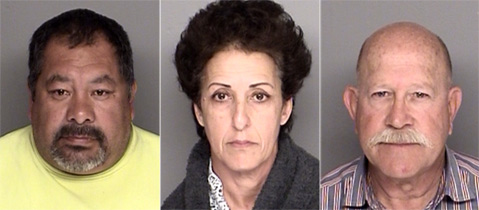 The owner of United Seal Coating, along with his wife and a longtime employee, have been charged with 42 felony counts of insurance fraud. Owner Alberto "Al" Rodriguez, his wife Maria, and Byron Duran were arrested January 14 by detectives with the California Department of Insurance accompanied by Santa Barbara law enforcement.
Their arrest was the result of an investigation by the California Department of Insurance Fraud Division, the Santa Barbara County District Attorney's Office, the Franchise Tax Board, the Employment Development Department, and the Division of Labor Standards Enforcement, said a spokesperson for the Santa Barbara DA's Office. The criminal complaint claims the three violated state insurance codes, perpetrated workers' compensation fraud, denied workers' comp benefits, and committed wage theft.
Additional details on the allegations were not immediately available. The trio is scheduled to appear in court for their arraignment on January 30.
The DA's Office has asked that anyone employed by United Seal Coating — which also went by the business names United Sealcoating and Slurry Seal, Inc., United Paving, and Santa Barbara Paving — and who believes they were a victim of wage theft or denied workers' comp benefits to call the office at 568-2300.