Briefs
Insurance Fraud Case Attorney Blames Union Pressure
Ron Bamieh lobs serious accusations against District Attorney Joyce Dudley.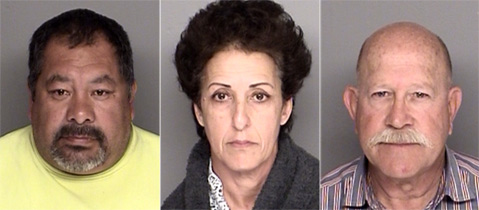 What appeared to be a relatively straightforward insurance fraud case got complicated last Friday when the defendants' attorney accused the Santa Barbara District Attorney of targeting his clients after receiving pressure from unions to remove competition.
Ron Bamieh, a prominent Ventura-based lawyer who is representing Santa Barbara paving company United Seal Coating and its owner Alberto "Al" Rodriquez, said in a prepared statement on January 16 that District Attorney Joyce Dudley and her office charged his clients after submitting to "several years of pressure from labor unions" that dislike Rodriquez's "non-union" business.
"The charges have only been brought because Al was able to provide construction more efficiently and economically than union companies on construction jobs on the UCSB campus," said Bamieh.
The investigation into United Seal Coating began three years ago, Bamieh said, after Rodriguez refused to become a union shop at the request of a labor union. "Rodriquez was told when he said no that he would have lots of problems, and lo and behold, now he has lots of problems," Bamieh said.
However, Dudley said that the allegations against her are completely false, and that she was surprised at how vocal and aggressive Bamieh was following the arrests of Rodriquez, his wife Maria, and longtime employee Byron Duran. "I was baffled by the accusation that I received union pressure," said Dudley. "I've received no union pressure whatsoever."
Bamieh said over the phone that Dudley and Rodriquez were friends, claiming that Rodriquez campaigned for her when she ran for office. Bamieh also said that when the investigation began, Rodriquez called Dudley personally to find out why he was being investigated.
However, Dudley said she has no record of Rodriquez contributing financially to her campaign or attending any campaign meetings. "We are not friends," said Dudley. "I recognized from pictures that he was someone who I've seen before at events and on the street, but absolutely not friends."
Dudley added in an email that "under no circumstances does being a 'friend' nor someone who supported me during my campaign, make anyone more, or less, immune from criminal or civil prosecution."
The three defendants have been charged them with 42 felony counts of insurance fraud, workers' compensation fraud, wage theft, and denying workers' comp benefits. A search of court records revealed no major cases in their or the company's history. Civil records show a 2010 small claims case that was dismissed and a relatively minor personal injury dispute with UCSB in 2008.
The Rodriquezes and Duran are scheduled to be arraigned on January 30. The couple will plead not guilty, said Bamieh. Rodriquez "looks forward to having his day in court and the opportunity to establish his innocence," he said.