Briefs
Santa Cruz Island De-Trashed
Volunteer Cleanup Crew Removes Half-Ton of Garbage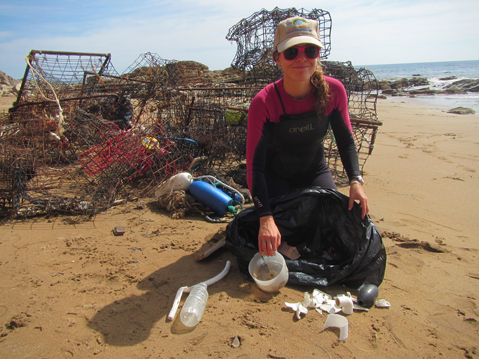 Nearly 40 volunteers traveled to Santa Cruz Island last week to remove over 1,300 pounds of trash, in an effort to restore a two-mile stretch and raise awareness of ocean pollution.
The coalition of clean-uppers gathered three dumpsters worth of trash and recyclable material from the Yellowbanks region on the southeast side of Santa Cruz Island. Derelict fishing gear comprised the majority of garbage, with an estimated one ton's worth left behind for lack of space on the return trip; plastic garbage made for the second most common kind of refuse.
By kayak and Zodiac, volunteers removed debris from the beach to a vessel operated by Island Packers. The mass of trash was then transported to the mainland, where it was disposed of by the National Park Service.
Volunteers also discovered a message in a bottle sent from then 9-year-old Sean Damneier, written in 2003 on a fishing trip with his father.
Participants hope the cleanup event will bring greater attention to the growing amount of trash in the ocean both locally and globally. A recent study co-authored by Roland Geyer, UCSB associate professor of industrial ecology, estimates 8 million metric tons of plastic waste goes into the ocean every year.
"We do what we can, but this is just the tip of the iceberg, and it goes to show you that trash ultimately needs to be eliminated at the source. We need better policies and practices to minimize our waste streams and prevent debris from reaching the ocean in the first place," said Ben Pitterle of Santa Barbara Channelkeeper in a statement.
The event was organized by Santa Barbara Channelkeeper, Santa Barbara Adventure Company, and Island Packers. Other participants included the Environmental Defense Center, NOAA National Marine Sanctuaries, Aquasports, Channel Islands Outfitters, the Santa Barbara Zoo, the Ty Warner Sea Center, the California Condor Project, and the Four Seasons Hotel.