Briefs
Santa Barbara Cheer Elite Celebrates Multiple Wins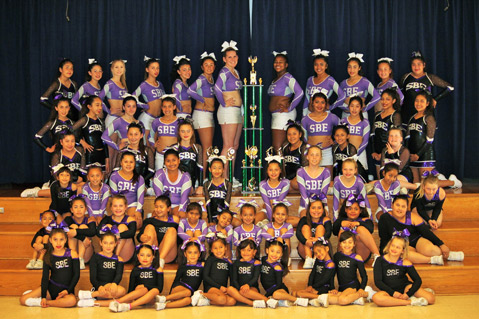 The auditorium at Monroe Elementary School was buzzing with excitement Saturday afternoon, as girls of the Santa Barbara Cheer Elite tumbled and danced before celebrating multiple first-place wins at a statewide competition last weekend. Five teams totaling about 60 girls ​— ​ages 4-18 ​— ​traveled to Knott's Berry Farm's Sharp International Cheer Competition; four of the teams placed first, and one placed second.
Since its inception about seven years ago, the program has mushroomed from less than 20 girls to more than 75. Director and Santa Barbara mom Sarah Butcher started the nonprofit because her daughter wanted to cheer, but she couldn't afford it. Butcher employs six coaches and the teams practice on Tuesdays, Thursdays, and Saturdays in the elementary school auditorium. "We have girls who are Level 7 to girls who can't even do a cartwheel," Butcher said. Cheer Elite is separate from the school cheer team, but some of the girls participate in both.
The program originated out of the Boys & Girls Club, but because of the growth, they would love to have a space of their own one day. Outside of the gym, the group often gets together for picnics or bowling, working on self esteem and personal growth. The team competes several times a year. Though they've taken home top awards several times in the past, Butcher said last week's win was the most exciting.