Briefs
UC Buys Tropicana Student Apartments in Isla Vista for $156 Million
Largest Commercial Real Estate Sale in Local Memory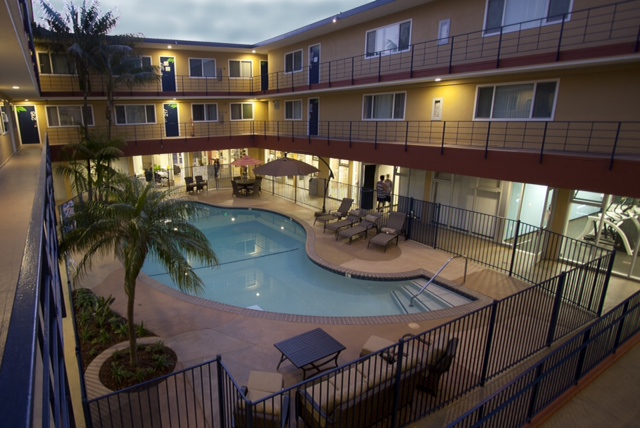 The University of California has purchased three of Isla Vista's largest apartment buildings from a Chicago investor for $156 million, breaking local records and becoming the No. 1 landlord in the unincorporated student community.
Documents recently made public by the Santa Barbara County assessor's office show that on June 5, the university paid $92 million for Tropicana Gardens, a 279-bedroom apartment building at 6585 El Colegio Road. It also paid a combined $64 million for Tropicana del Norte at 6525 El Colegio Road and Tropicana Villas at 811 Camino Pescadero, with 241 bedrooms and a parking lot. The properties house more than 1,000 students.
John Longbrake, UCSB associate vice chancellor for communications, described the deal in a press release today as part of the university's "ongoing efforts to play a larger role in student life in Isla Vista, and to improve the living experience for a large number of UC Santa Barbara students and the surrounding community …"
"This was a unique opportunity for the University to make a significant impact and demonstrate our ongoing commitment to the community," he said.
The Tropicanas will remain student housing, UCSB officials said, and will likely be renovated and integrated into the academic and social life on campus.
Previously, the university had owned only the El Dorado and Westgate apartments with 113 bedrooms "inside the box" of Isla Vista proper, an area bounded by the campus, the ocean, Camino Majorca, and the south side of El Colegio Road. With the Tropicanas in hand, UCSB now owns 633 out of 8,486 bedrooms in the community, more than any other single entity. University-owned apartments typically rent for nearly 15 percent less than market-priced apartments. University student housing is a self-funded enterprise and receives no state money for its operations.
The purchase of the Tropicanas is the largest commercial real estate transaction in local memory, experts in the business said this week. In Isla Vista, it follows the $38 million sale of Icon and Icon Gardens in March.
The seller of the Tropicanas was Peter Stelian, president of Isla Vista Investors and founder and CEO of Blue Vista Capital Management, the Chicago real estate investment firm that purchased the three buildings in 2010. According to a Wall Street Journal story about that deal, Tropicana Gardens was valued in 2010 at $64 million, and the sale price for Tropicana del Norte and Tropicana Villas was $37 million.
Since universities are exempt from property taxes in California, the loss of the Tropicanas would diminish government coffers for schools and services, county officials said. The Tropicanas paid $1.1 million in basic property taxes last year.