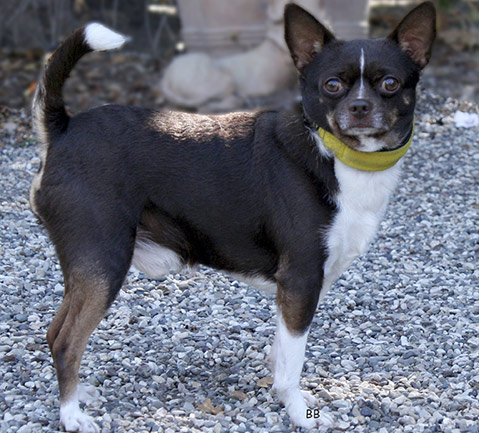 Hunk is a priceless, 12-month-old chocolate brown/white Chihuahua. This ten-pound jewel of a dog loves to walk on a leash – and he does this very well. He will stay by your side and looks up at you as if to say: "I love these walks". He gets along with other dogs; rides very well in a car and meets people with gusto. He will go right up to people and sit just waiting for attention. He knows how to sit and he looks people in the eye with affection and anticipation. He can jump up onto a couch and then he just wants to stay close to a human. He has a slightly chunky build, so he's been given the name Hunk, but it actually fits him for another reason—he is a hunk of a joyful and loving dog. Most importantly he deserves to have a forever family that will love him for who he is.
To view more photos and information on other dogs available for adoption, go to the K-9 PALS website: K9PALS. K-9 PALS provides free dog behavior training sessions for people who have adopted a dog from any local shelter, rescue organization or humane society.
K-9 PALS – K-9 Placement and Assistance League, Inc.- is the all-volunteer, no-kill, non-profit 501C3 organization dedicated to providing humane care, forever homes and advocacy for homeless and abandoned dogs in Santa Barbara County and beyond. All donations to K-9 PALS go directly to benefit homeless and abandoned dogs of our community in order to save lives, and find forever homes for them. Information on K-9 PALS is available at K9PALS, or 805-570-0415, or info@k-9pals.org or at K-9 PALS, P.O. Box 60755 Santa Barbara, CA 93160-0755.