Briefs
[Update] Crash of Small Plane Kills Pilot and Passenger, Victims Identified
After 'Mayday' Cry, Rescue Officials Investigate Reason for Crash in Southeastern Santa Barbara County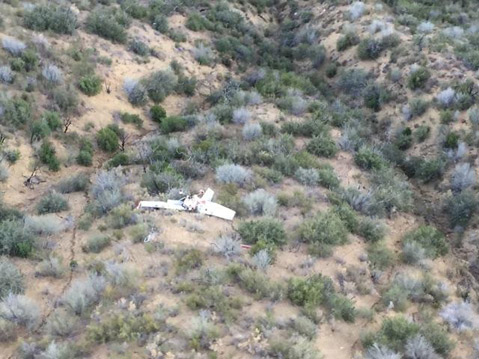 [Update, 8:58 a.m., August 10] Identities of the two victims have been released: The pilot is 58-year-old David Martz and the passenger is 56-year-old Greg Bacino, both of San Diego. Martz was a commercial pilot hired by Bancino to fly him to a business meeting in San Luis Obispo. At 9 p.m., while flying home from the SLO airport in a Cessna rented from the San Diego area, engine problems caused the airplane to crash in the Los Padres National Forest.
[Update, 5:12 p.m., August 7] A second victim was recovered from the crash of the small plane. Both victims are males in their fifties-sixties.
[Original Story] The U.S. Coast Guard and Santa Barbara County Sheriff's Search and Rescue Team responded to a "Mayday" report from a small plane in Southeastern Santa Barbara County that was experiencing engine trouble on Thursday morning, August 6, according to a prepared statement. Both Ventura and S.B. County personnel responded to the crash, which was estimated to be 30-40 miles north of Ojai just north of Jameson Lake. At 4:40 a.m. this morning, the Ventura County Air Unit located the small plane's wreckage on land in an isolated area near Don Victor Trail. Because of the area's rugged terrain and distant location, responders did not arrive at the crash site until 7 a.m., when they found the pilot's body inside the plane and no survivors. Due to the aircraft's dangerous position, responders are currently determining how to safely remove the victim.
The pilot's identity remains unknown. The National Transportation Safety Board is investigating details such as the plane's departure and arrival destinations as well as the reason for the crash.