Briefs
Actress Dot Marie Jones Speaks Out Against Abuse
"Glee" Star Appears at Domestic Violence Solutions' High Esteem Luncheon on Sunday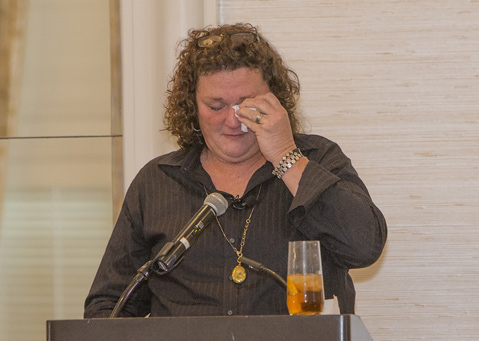 Actress Dot Marie Jones, famous for playing Coach Shannon Beiste on the television show Glee, earned a standing ovation for her emotional yet riveting keynote address delivered at the Domestic Violence Solutions' High Esteem Luncheon on Sunday, October 4.
"I hate that we have to have this," Jones said of the luncheon. "But I'm so glad we have this."
The luncheon was hosted by the nonprofit Domestic Violence Solutions (DVS), which is working to end domestic violence in Santa Barbara County.DVS provides 24-hour shelter services for battered women and children and acts as the county's only "full-service domestic violence agency." Most notably, DVS provides a transitional housing program that allows battered women and children to stay in apartments for up to 18 months while also receiving various support services such as counseling.
"I am impressed by what DVS is doing in Santa Barbara County to end the cycle of domestic violence by providing awareness and prevention and intervention services," Jones said in anticipation of her keynote address. "I look forward to further help raise awareness and funds to help support their mission."
At the luncheon, Jones was praised for her portrayal of Coach Beiste on Glee, the hit musical-comedy-drama television series that aired on Fox from 2009 to 2015. In particular, Jones addressed her performance in the third season episode "Choke" in which Beiste comes to school with a black eye and claims she was hit by a speed bag at the gym when she was really hit by her husband. Jones said she cried when she received the script for "Choke" to which Glee creator Ryan Murphy asked why she was crying.
"Because it's not a script," Jones answered. "This is probably a diary of millions of women's lives." Jones was nominated for an Emmy due to that episode, which took an emotional toll on her. "I was a mess the whole time shooting it," she said. "I'm still a mess, and that was three years ago."
However, this was not the Glee star's first experience with issues of domestic violence. Jones told the story of one of her close friends whose experience with domestic violence ended tragically with burns covering 75 percent of her body and about 50 operations "to piece back this beautiful little girl." Jones explained, "She doesn't call herself a victim — she calls herself a survivor."
Also in attendance at the luncheon was Santa Barbara County District Attorney Joyce Dudley, who has been involved with DVS for over 25 years since she was a Deputy District Attorney.
"My mission for everything I do is crime prevention," said Dudley. "If we can stop someone from being abused, then we stop the pain…we stop the criminal prosecution." Dudley said survivors do not necessarily believe they are "worthy of not being abused," explaining, "It's all about being a voice for the voiceless."
One of Dudley's most memorable cases involves a man who busted out a woman's eardrum, making her deaf in one ear. "As much as one would expect that she'd be angry at him, she was angry at me for being the prosecutor, and I walked in the room and she looked up at me and she said 'fuck you'," Dudley said.
Years later, Dudley received a letter from this woman, a memento she still has today. The letter expressed gratitude for Dudley and an apology for how she treated her in court. The woman thanked her, and said that she was able to raise her child in a "non-violent home," because of Dudley's outreach and support.
Sunday's luncheon, which was held at the Four Seasons Biltmore, raised more than $14,000, not counting proceeds from the silent auction and private donations. See dvsolutions.org.