Real Estate
Water Saver: Youth Drought Project Lawn-Removal Rebates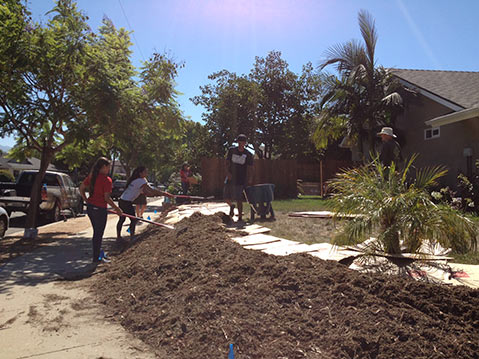 The nonprofit Youth Drought Project (YDP) was started in 2014 to provide volunteer and job opportunities to young people creating climate-friendly landscapes in the Santa Barbara area. Thanks to a recently launched state rebate program, all or most of the cost of hiring YDP to replace lawns with drought-tolerant plants and mulch will be covered. YDP members will also help customers apply for the State of California rebate, which covers up to 1,000 square feet or $2,000 and lasts until funding runs out.
YDP's specialty is sheet mulching. "Sheet mulching applies de-taped cardboard boxes and a thick layer of mulch to smother lawns, build soil, and retain moisture," according to YDP coordinator Brad Smith. "Fall is the best time because coming rains awaken dormant seeds and grass roots, which then die off because they can't get through the cardboard and mulch." Over time, the cardboard decomposes into the soil. Smith says other techniques, such as hand removal, chemicals, or plastic sheeting, are less effective and more costly, toxic, labor intensive, or unsightly.
The state rebate requires at least 25 percent of the lawn to be replaced with drought-tolerant plants at maturity, and at least one new or existing tree. It allows fruits and vegetables, too. The lawn can even appear dead as long as turf is still visible. YDP youth will do the sheet mulching and planting while contouring the soil to retain as much rainwater on-site as possible.
Summer is usually slow for YDP because the weather is hot and the young members are otherwise busy. "Fall is when we get more active again," said Smith. "If you're a young person age 15-25 or part of leadership in a youth or environmental organization, school or college, or the landscape industry, we'd love to work with you."
And those interested in the rebate program better act fast. "The sooner homeowners apply, the better their chance of getting the funding before it runs out," said Smith. "Even renters can get the rebate with permission from their landlords. We help people through the easy online process."
Contact Brad Smith by calling (805) 705-5844 or emailing bsmith.interplay@gmail.com.