Briefs
UCSB Student Dies from Blood Loss After Punching Through Window
UPDATE: Sheriff's Office Refutes Allegations that Slow Response and Misconduct Contributed to Andres Sanchez's Death
UCSB student Andres "Andy" Sanchez died in surgery Sunday morning at Cottage Hospital two hours after he punched through a window in his Isla Vista apartment and severely lacerated his arm. Sanchez's death was first reported Wednesday by The Daily Nexus, UCSB's student newspaper.
According to the Nexus report, which relied on information provided by Senior Deputy James McKarrell with the Isla Vista Foot Patrol, Sheriff's deputies responded at approximately 4:40 a.m. to the 6700 block of Abrego Road after receiving calls of a male subject running down the street screaming for help.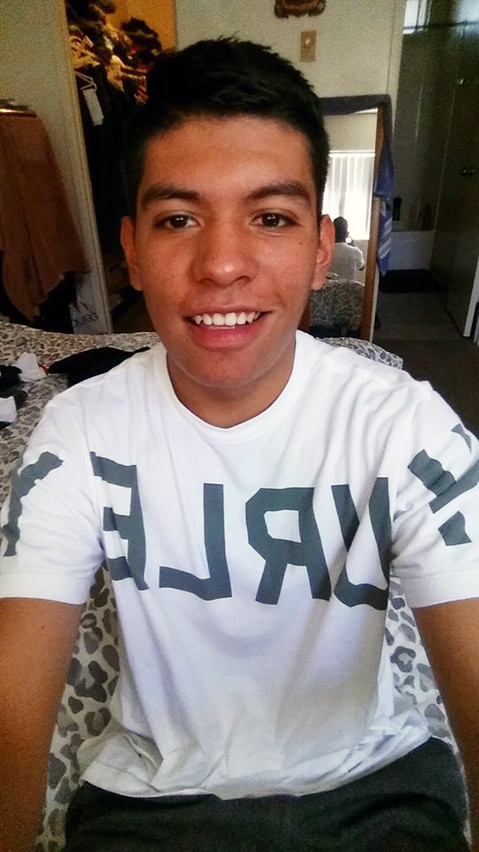 When deputies came upon a panicked Sanchez in a nearby apartment complex, three people were holding him down and attempting to calm him. A blanket had been wrapped around his arm, and when the deputies removed it, they observed a "cut approximately three-quarter inches in diameter around his arm." Witnesses said blood was "literally flying" from the wound.
Sanchez, a second-year pre-biology major from Poway, California, was transported to Cottage Hospital but died from blood loss just before 7 a.m.
One of Sanchez's roommates told authorities he had rushed into their apartment earlier in the evening "talking gibberish," the Nexus reported. At some point he punched through a window and cut his arm on the broken glass.
At a Wednesday meeting of UCSB's Associated Students Senate, the Nexus also reported, five individuals who said they had encountered Sanchez after his injury and dialed 9-1-1 for help made serious allegations of misconduct against first responders.
The group, composed of UCSB and Santa Barbara City College students, claimed 9-1-1 operators failed to take their calls seriously, paramedics and firefighters took too long to arrive and displayed a lack of urgency once at the scene, and Sheriff's deputies acted hostile toward Sanchez and the witnesses because of their race. Read the full Nexus story here.
Questions to Deputy McKarrell were directed to Sheriff's spokesperson Kelly Hoover, who was not immediately available for comment, but she has since issued the below statement. UCSB and County Fire officials have also issued statements below.
This story will be updated with additional responses from appropriate parties should they become available.
A vigil for Sanchez is scheduled for Thursday night at 8:30 p.m. at the Associated Students Pardall Center. To help Sanchez's family with funeral expenses, Associated Students has set up a donation site through GoFundMe.
[UPDATE, 2:45 p.m.]: Katya Armistead, UCSB's Dean of Student Life, issued the following statement: "It is always heartbreaking to lose a member of our community, and my thoughts are with Andy's family and his friends who have been personally impacted. Losing a fellow Gaucho reminds us all to take good care of one another. As always, I urge you to seek out help and support from Counseling and Psychological Services (CAPS), especially if you knew Andy and would like to talk to someone about your loss. CAPS is open Monday through Friday, 8:30 a.m. to 4:30 p.m. and also provides after-hours counseling by phone 24/7/365. Simply call (805) 893-4411 to make an appointment or to speak with an after-hours counselor. Walk-in visits are also available for urgent needs."
[UPDATE, 10:45 p.m.]: Sheriff's spokesperson Kelly Hoover provided this narrative of the incident: "On 10/11/2015 at approximately 4:40 a.m., SBSO Dispatch received a call for medical emergency in the 6700 block of Abrego Road for a report of a male subject bleeding from the arm and running around in the street screaming for help. SBSO Deputies, Fire, and AMR responded to assist.
"The victim, Andres Sanchez, suffered from a large laceration around his right arm, near the elbow. The injury was later determined to have been caused by the victim punching his arm through a plate glass window. Sanchez was combative and displayed symptomology of being under the influence of a controlled substance. Sanchez was restrained on a backboard and transported to Cottage Hospital Emergency Room by ambulance. Based on witness statements at the scene, Sanchez had struck the apartment window with his right arm and began running around, yelling and acting strangely. He was bleeding profusely. Several of the witnesses attempted to restrain Sanchez and provide first aid. Sanchez's roommate believed Sanchez may have ingested some type of synthetic drug, possibly LSD or K2.
"While at Cottage Hospital, Sanchez became unresponsive. Advanced life-saving efforts were attempted, but were unsuccessful. Sanchez was pronounced dead at approximately 6:51 a.m. The Sheriff's Coroner's Unit is conducting a death investigation to determine cause and manner of death."
Hoover also said this in response to allegations of misconduct and racism made by witnesses: "The notion that any of the first responders from dispatchers, to paramedics, to deputies in any way did not care about this UCSB student and did anything but try and do the right thing given the circumstances to get him the medical care he needed is absolutely not true and goes against what it means to be a first responder and the true intentions of everyone involved. We know this was a stressful and emotional scene and commend those who did their best to try and help Andres Sanchez.
"The Sheriff's Office is made up of professionals made up of all different races and does not tolerate racial discrimination whatsoever. There is zero validity to any claims regarding race in this tragedy."
[UPDATE, 10/16, 10:00 a.m.]: In an interview with the Nexus, Lieutenant Rob Plastino with the Isla Vista Foot Patrol also took great issue with the allegations. "Whoever is propagating that kind of nonsense, I would ask them to come forward and provide proof of it," Plastino is quoted as saying. "If there is proof of it, we need to have a full-blown investigation." He also stated that witnesses provided a false account of events, which caused Sanchez's family "unwarranted grief." Read more of Plastino's comments here.
[UPDATE, 10/16, 3 p.m.]: County Fire spokesperson Captain Dave Zaniboni issued this statement about the incident: "On October 11, 2015 at approximately 4:40 a.m., the Santa Barbara County Fire Department received a call for a medical emergency in the 6700 block of Abrego Road in Isla Vista. Fire Engine 11, which was staffed with one Captain, one Paramedic/Engineer and one Paramedic/Firefighter, was dispatched and responded from their station located at 6901 Frey Way (at Storke Rd.) in Goleta. Upon arrival, Firefighters were met by several agitated bystanders stating that the subject had cut his arm and needed help. Firefighters donned the appropriate protective equipment and approached the subject, where they found a combative male victim, around 20 years of age, being restrained on the ground by Sheriff's Deputies who had arrived on scene prior to our arrival.
"Our Captain and Engineer assisted with restraining the subject, who was extremely combative, while the Paramedic/Firefighter began treatment and worked to control the bleeding. An American Medical Response (AMR) ambulance arrived on scene. The subject was placed onto a back board and restrained with soft restraints to prevent further injury to himself or to first responders. He was then transferred to the AMR ambulance and transported without delay to Cottage Hospital.
Our Firefighter/Paramedic rode to the hospital in the ambulance to assist with patient care. The Captain and Engineer remained on scene, at the request of Sheriff's Deputies, to assist with cleanup at three different locations on Abrego Road. There was a large amount of blood on the street at these locations, which presented a biological hazard. The areas were cleaned with the use of Septisol and copious amounts of water.
"Santa Barbara County Firefighters pride themselves in their professionalism while working with law enforcement and AMR to provide the highest standard of patient care. Our members treat every emergency with urgency and professionalism. Engine 11's crew on October 11th included an experienced team of Firefighters and Paramedics. Every effort was made to provide the very best care and life saving measures for this young man."