Briefs
[UPDATE] Highway 101 North Remains Closed Between Carpinteria and Ventura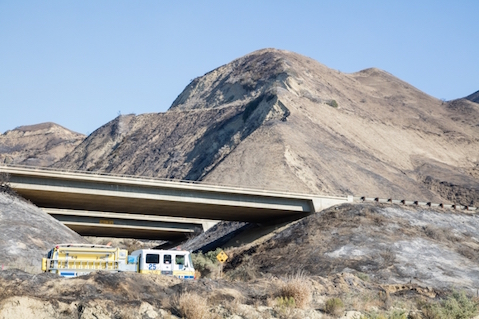 [UPDATE: 2:00 p.m.] Highway 101 is open in both directions, according to Santa Barbara County Office of Emergency Management. Approximately 600 firefighters are still on the roughly 1,200-acre fire, according to Ventura County officials, and the public is advised to be aware of equipment working in the area.
[Original Story:] Northbound drivers planning to take Highway 101 through the Solimar area are advised to take the I-5 or highways 150 or 166 instead. Highway 101 remains closed between Carpinteria and Ventura due to a brush fire that began around midnight. The southbound lanes are estimated to open at 12:30 p.m. today, according to Caltrans.
According to the Ventura County Emergency Information website, an emergency shelter has been established at the Red Cross in Carpinteria, 941 Walnut Avenue for evacuees from Solimar Beach and campgrounds, and also Faria Beach residents.