Film & TV
'The Dark Side of the Ocean'
Director Rick Rosenthal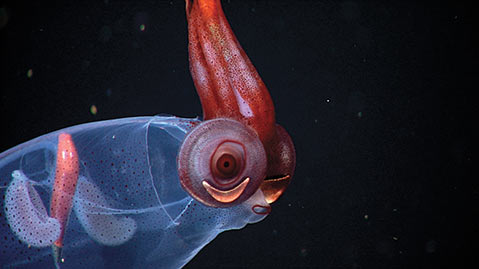 After a career of shooting ocean scenes under the sunshine, Santa Barbara underwater photographer Rick Rosenthal decided to see what marine freaks come out at night. The result is a visually captivating and informationally rich view of a nightly phenomenon that's the largest migration of life on the planet, perfect for anyone interested in the sea.
U.S. PREMIERE
See rickrosenthal.net.

When did you realize that there was such a wealth of life to be filmed at night in the ocean?
Back in the 1960s after completing undergraduate studies in zoology, I was assigned a task by the Westinghouse Ocean Research Laboratory in San Diego to examine deep sea photographs and side scan sonar records of the so-called DSL (deep scattering layer). I even got to see this living phenomenon while making several dives as an observer in the 'Deep Star 4000' submarine off California and Baja California, Mexico. My boss at the time was Dr. William Clarke, one of the authorities on the fishes that comprise the DSL. Based on these records we knew that these living layers of organisms actively migrated from the deep during a 24-hour period. But there was so much that we didn't know!

What took so long for you to explore this realm?
The early obstacle to filming this vertical migration was having access to a submarine that could follow the movement of animals from day to night. Almost all of the deep dives were conducted during daylight hours. Dive times were limited by battery power, our lights and cameras were experimental, and pretty crude considering what is available today. Most importantly, research submarine dives were very expensive, and there was only a handful of boats built to carry out this kind of research, mostly engaged in research for the U.S. Navy.
The breakthrough that we needed to tackle this subject came about with the development of professional digital cameras that could capture a high quality image under very low light.
How much does science know about this phenomena?
The phenomena has been known for years, but what actually triggered the vertical migration has only recently been identified. Also, how do these animals benefit by making these mind-boggling trips from the deep to near surface and back again, day after day? More importantly what are the cues, and how many species and groups of organisms are actually involved?
The absolute top research has been on going at the Monterey Bay Aquarium Research Institute (MBARI). This is the benefit of having marine biologists and engineers work together to unlock some of the great ocean secrets. We were blown away by seeing all these remarkable creatures living just a few miles from the coast of California — many rare or new to science.
Being able to send a remote vehicle (ROV) down over an extended time period was the first break through. Adding high tech cameras and lights to the ROV allowed not just scientists, but also the public to see these 'weird alien-like creatures' in full color was the other achievement. But in our film, we approached the task from another point of view: by having a human dive into this same environment at night toting an underwater camera and several LED lights. Total immersion was the way to experience this phenomena.
Have you tried to track this down in the Santa Barbara Channel?
Many of the same sea organisms are living right here in the deeper mid-waters of the Santa Barbara Channel. I got to look out of the porthole of the 'Deep Star' submarine while we were exploring the Channel in the 1960s. During the making of the film we went to areas that had very deep water somewhat close to shore (10-30 miles from the nearest port). Also, we needed relatively calm clear water to see and record these organisms during both the day and night. Stormy, windy weather was not an option for this project. So we focused our attention on more tropical seas off Hawaii, Panama, and Costa Rica.

Do you hope to explore this realm more deeply in the years to come?
Every dive we make during the darker hours over really deep water reveals something new. Our film is just a beginning into understanding this great vertical migration. Our approach was to take the audience along on the journey, and by going into the deep ocean at night, we would also learn something about ourselves. Humans have a fear of the dark, as well as diving over thousands of feet of water. For most people that activity would be completely insane. Everyone asks: what about sharks, what stinging animals, and what about getting separated from the boat in the dark!

What other realms are out there that you would like to explore?
My interest has always been in seeing and recording new behavior. The more we get offshore during both the day and night, the more fired up I get about filming in the open ocean. This part of the ocean has only been properly been explored and filmed in bits and pieces, mostly in the last couple of decades.
What's your next project?
We are working on the latest El Nino, plus developing a new program about whales.