Briefs
German Diplomat, Anacapa Students Talk Refugee Crisis
Political Asylum, Cologne Attacks at Forefront of Discussion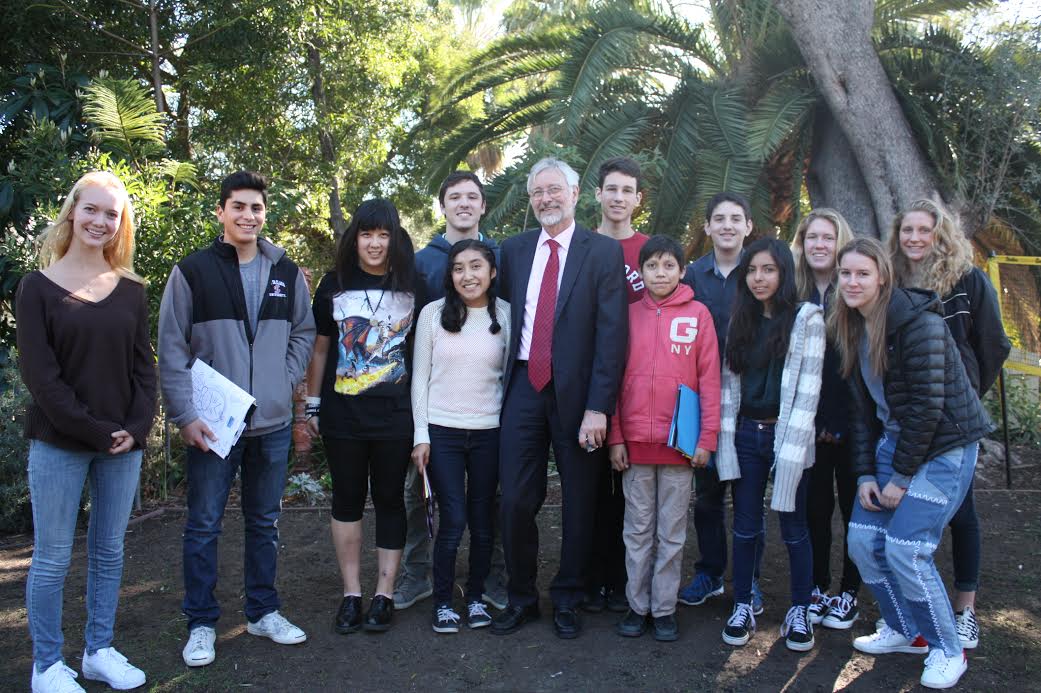 European Union (E.U.) immigration policy came to life Wednesday morning at Anacapa School, as Hans Jörg Neumann, Consul General of the Federal Republic of Germany joined middle and high school students to discuss the refugee crisis in Europe and the Middle East. He was one of two European diplomats and a long list of scholars invited to speak on the issue during the independent school's weeklong human migration synthesis unit.
Neumann said his multiethnic home country, where one out of every 10 residents is foreign-born, already possessed a long history of involuntary migration. "What was totally unusual was the scope of [this] crisis." Worldwide, he said, over 60 million refugees are seeking protection from war and economic collapse, many of them heading to neighboring countries, Germany, Austria, and Scandinavia. The question facing Europe, he said, is how to cope with this.
Last year, 1.1 million refugees — a diverse group of Syrians, Afghanis, and Iraqis, among others — flooded Germany's country of 81 million. Of them, 480,000 have applied for political asylum, a protection under the German constitution more frequently granted to Syrian, Iranian, and Turkish migrants, who are coming from war-torn countries. "We do not easily send back people who are in need," said Neumann, citing both World Wars, "out of this history we said never again in our country."
He spoke to the roomful of note-taking students about the German government's difficult task of deciding which migrants have fled wartime persecution and which seek economic relief, a reason he empathizes with but one that isn't covered in the constitution's Asylum Procedure Act. In general, people granted political refuge can only stay in Germany for three years before the conditions in their home country are reevaluated. Syrian refugees have their cases are reexamined after one year.
Anacapa School junior Morgan Lamberti asked whether public opinion of German Chancellor Angela Merkel has changed since New Year's Eve, when groups of young male refugees allegedly robbed and sexually attacked German women at the City of Cologne's central train station. In April 2015, 75 percent of German residents approved of Merkel, according to a report by PBS (Public Broadcasting Service). She was named TIME Person of the Year in December, in part for her open-door policy towards refugees. According to Neumann, the Chancellor's approval ratings had fallen to 39 percent just after the attacks and an unusually high 10 percent of Germans aligned with the country's far-right political party AfD (Alternative for Germany).