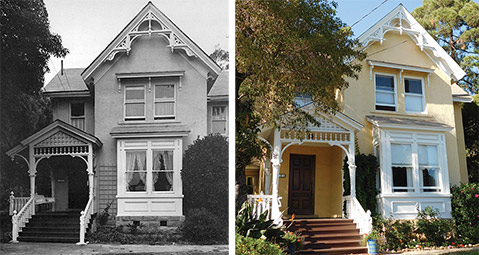 Original owner and builder: Peter Grant
Year built: 1896
This Eastlake-style Victorian house was constructed by original owner Peter Grant, who was a livery stable owner and proprietor of Santa Barbara's first brickyard. His masonry business, which he officiated from the home's backyard, gave him the freedom and flexibility to design and build his residence as one of the first and only all-brick homes covered in stucco that remain from the Victorian era.
The decorative Eastlake style was named for Charles Locke Eastlake (1836-1906), a noted Englishman, author, architectural designer, and critic of the Gothic Revival style. In his book, Hints on Household Taste in Furniture, Upholstery, and Other Details, he advocated that both furniture and décor in the home should be designed with great pride. Manufacturers in the United States quickly caught onto his ideas from the book and used his drawings to mass-produce Eastlake-style and cottage furniture.
This home's architectural attributes on the lower level include a spacious bay window and spindlework on the front porch, while the second-story gable is festooned with decorative motifs that include ornamental brackets juxtaposed on the roof's eaves. The 16-foot-deep foundation is set to ensure ample protection from earthquakes, while the sunny yellow exterior and white trim make this a valued asset in the lower Riviera neighborhood.