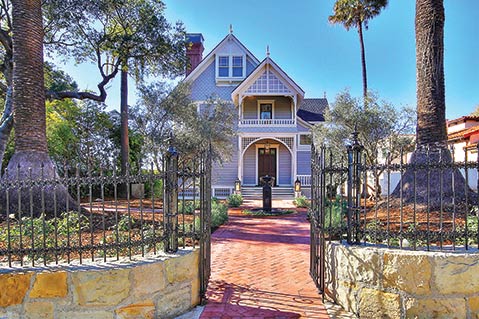 Original Owner: George Edwards
Year Built: 1888
Architect: Thomas Nixon
Landscape Designer: Joseph Sexton
This Queen Anne Victorian was designed and built by Thomas Nixon for the family of George Edwards, a prominent banker, businessman, and civic leader who occupied the house for 37 years. It is only one of a handful constructed by Nixon that has remained intact.
A native of Nova Scotia, Nixon emigrated to the U.S. and put down roots in Santa Barbara with his wife and four daughters. He worked as a carpenter and designer, and dabbled in several ventures, including a lumberyard and sawmill with his partner/manager Oscar Boeseke.
Nixon's architectural structure and composition were similar to those of his counterpart, architect Peter J. Barber. In addition, Nixon chose to take his design process to the next level by custom designing the interiors with personalized furniture, cabinetry, and intricate woodwork adapted from his association with his lumber-mill investment. He developed an excellent reputation for his interior wood finishes and built homes for several prominent citizens of early Santa Barbara, including Clinton Bennett Hale, W.M. Eddy, and Judge Canfield.
For this well-proportioned, more than 3,100-square-foot home, it has recently undergone an extensive renovation by the design and build team at Art and Elements and is being honored as a City Landmark by the Santa Barbara Historic Landmarks Commission. It is currently available for sale through Paul Hurst and Ashley Anderson of the Berkshire Hathaway real estate office with a current list price of $2,950,000.