Briefs
Bear Casually Roams West Goleta
The Santa Barbara Sheriff's Office sent out an alert Wednesday morning letting West Goleta residents know that a black bear had been sighted in the area. By the time that report went out, Goleta City Councilmember Paula Perotte was already well aware of the creature. Her dog, Apollo, was standing at an open window barking at the bear, a sight that made her do a double take.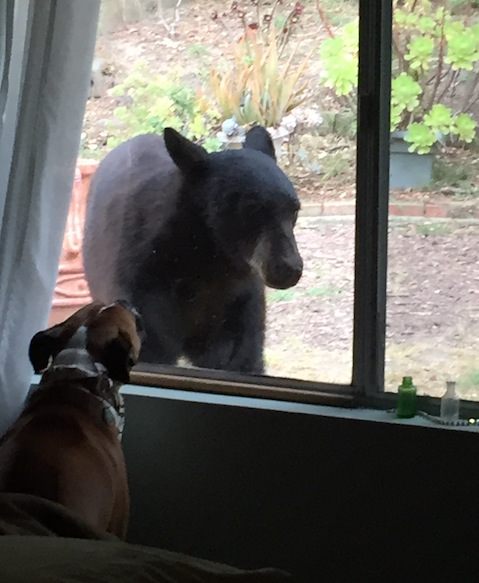 "The bear was kind of terrifying and cute all at the same time," she said. Perotte quietly moved to the window and slid it shut. This all happened around 7:30 a.m. at her home, which is in an area that borders the Bragg and Ellwood farms at the foot of Winchester Canyon. Perotte said the bear sat quietly in her yard for quite awhile before it calmly made its way around lawn furniture and the corner of the house before apparently hopping a fence and heading through other backyards. Bear sightings filtered in all morning from residents in the Winchester area down toward the Mountain View Ranch Estates.
Independent columnist Vic Cox was out for a walk in his neighborhood later in the morning and said the usually barking dogs there were noticeably quiet. A woman on Gerard Drive told him she'd seen the bear casually walk by her window and described the animal as grandote in size. Cox said that video of the bear showed it running, sticking close to eucalyptus trees, along a path that he walked nearly every morning.
State Fish and Wildlife warden Jamie Dostal is quoted in area news media saying the bear was darted with a tranquilizer gun around noon and taken to Los Padres National Forest for release. The bear, naturally curious and very smart, had been acting peacefully, and Fish and Wildlife had been waiting to see if it would begin moving back toward open space and home, said Kyle Orr, a public information office with Fish and Wildlife. When it ventured under the freeway and remained near homes, the decision was made to tranquilize and remove the young adult male, which was 250-300 pounds in size.