Briefs
Scherpa Fire: Saturday Evening Update
7,811 acres; 45 percent contained; Red Flag Warning Issued for Sunday 5 p.m.
While fire officials reported progress Saturday in containing the Scherpa Fire, they remained cautious, warning of hot and dry conditions predicted for the days to come.
As of 5 p.m. Saturday, the fire had grown to 7,811 acres, with 45 percent containment. Firefighters have made good progress in securing the western flank of the fire, while the north and eastern edge remained a concern. In addition, sundowner winds were predicted to be 5 mph stronger Saturday night than they were last night, with gusts up to 50 mph. According to reporter Ray Ford, there is also a growing understanding by firefighters in the field that the cause of the fire was due to use of a wood splitter on Rancho La Scherpa, though officials have not confirmed that yet.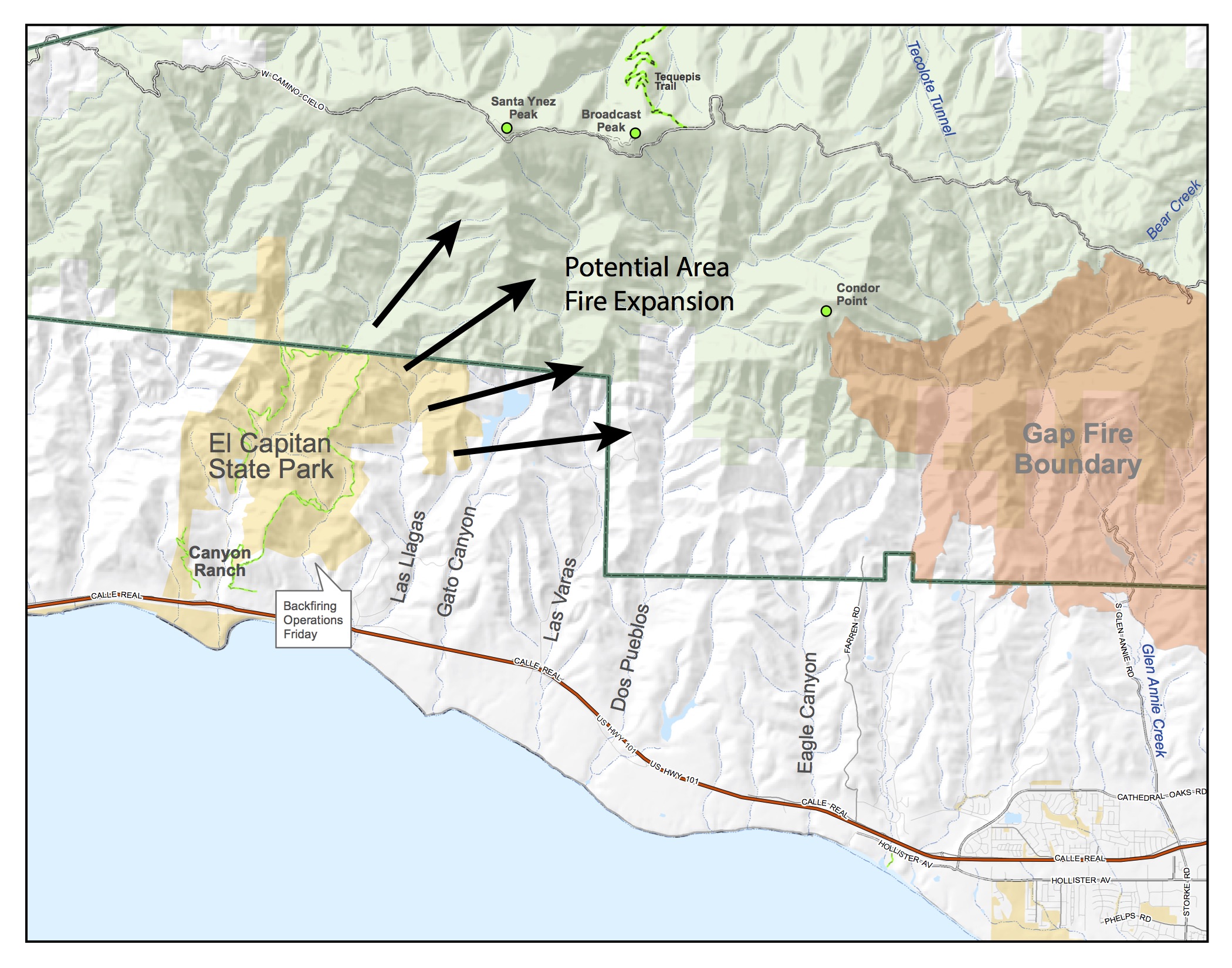 At 6 p.m. Friday, the Unified Command — a collaboration of U.S. Forest Service, Cal Fire, and Santa Barbara County Fire Department — scaled up to be "Type 1," reserved for major, complex incidents requiring national resources, several agencies, and full staff. Nearly 2,000 firefighters from across the state have been called in.
Because Friday night saw less significant winds, ground teams were able to bulldoze terrain — "get ahead of it" instead of being in a "defensive position," explained Santa Barbara City Fire Chief Pat McElroy. "One of the things important to understand is that water is not going to put this out," he said. Bulldozers, aviation, hand crews, among other things, will. "It's never just one thing."
High temperatures, low humidity, and high winds predicted over the next few days prompted officials to issue a "red flag warning" to go in effect Sunday at 5 p.m. through Tuesday at 10 a.m. McElroy said Saturday the next 48 hours would be crucial for officials to get a better sense of when the fire could be fully contained.
It is not particularly unusual to have red flag warnings this time of year, and that's contrary to popular belief that fire season is worse in August and September, McElroy added. He noted that the Jesusita Fire occurred in May.
Asked about Santa Barbara's preparedness for large wildfires, McElroy expressed confidence. "The playbook is already written," he said, referring to a preexisting agreement known as the Santa Barbara Operational Area Plan. The same plan exists for the larger region. "We know exactly who is coming." He added, "In California, I think we have the best mutual aid system."
Another tool that helps the county to be prepared is radio frequency, he added. "We are all capable of talking to each other no matter where we are," he said. In addition, all of the city's fire engines are in the process of installing Wi-Fi hotspots. "The communication has never been better," he said. "This is one of the places where government works well together — because we have to."
According to the Sheriff's Office, mandatory evacuation orders remain in effect for Refugio Canyon, Venadito Canyon, Las Flores Canyon, El Capitan Canyon, El Capitan State Beach, El Capitan Ranch, and Canada de la Destiladera; and the area east of the Refugio burn area up to Calle Lippizana, near the horse center.
Warnings are in place for the areas east of El Capitan Canyon to Farren Road; Las Llagas Canyon, Gato Canyon, Las Varas Canyon, Dos Pueblos Canyon, and Eagle Canyon. The fire department's overnight priorities include 60 homes in Refugio Canyon, 80 homes in El Capitan Ranch, Circle Bar B, and "the Narrows."
Pet owners are encouraged to plan for evacuation. They can contact Animal Services hotline at (805) 681-4332 for assistance.
Though some media outlets reported full containment was predicted for June 23, a Joint Information Center spokesperson said he could not confirm that. "We're not sure where that's coming from," he said.