Make Myself at Home
Make Myself at Home: A Charming Discovery on Grand Avenue
1410 Grand Avenue Is an Updated Riviera Beauty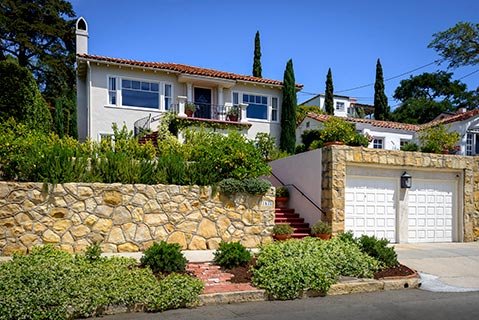 Address: 1410 Grand Avenue
Status: On the market
Price: $1,895,000
I thought I knew Grand Avenue. I used to live on Grand, for goodness' sake. The house we lived in almost 30 years ago will forever be frozen in my mind as the quirky house with the best view that I'll likely ever "own." But as I drove up the winding east end of Valerio Street last week, simultaneously meandering down memory lane and looking for 1410 Grand, I reached a dead-end, literally, when the lowest house numbers ended firmly in the 1500s. Fortunately my iPhone came to my rescue, bringing me back to the present and revealing a whole other portion of Grand Avenue that I had heretofore yet to meet: a little one-block cul-de-sac of about six homes, which make up the 1400 block of Grand Avenue.
Looking up at 1410 Grand, everything about it is inviting, starting with its setting: high — but not too high — above street level. A quintessential red-tiled roof crowns a two-story Mediterranean façade with large, distinctive wood-framed windows looking back at me. A golden Santa Barbara stone wall hugs the lot and embellishes the garage, inviting visitors to walk up the wide red staircase. As I do exactly that, the first landing presents a bubbling lion fountain framed with greenery, offering a greeting both formal and friendly. I pass two separate front-yard areas, one on either side of the house, as I continue walking up and around the circular stairway toward the front porch.
From this vantage point, I find it impossible not to turn for a quick peek at the view. Yep, it matches my remembered favorite view from almost 30 years ago. Santa Barbara changes only subtly over time, and the view from the Riviera out over downtown, sloping down to the harbor, ocean, and islands beyond, is one of the constants that affirms our place.
Turning back to the house, the front door itself stops me in my tracks. A heavy decorative glass window sits above a brass knob in the center of the door that twists to chime and announce a visitor, and crowns an intricate door handle below. Flanked by columns on either side, this threshold certainly qualifies as a grand entrance, but the overall impression is cheerful period charm rather than grandeur.
As you step into the foyer, a beautiful living room stretches to the left. Huge windows encompass the entire front wall and frame the fireplace on the far side, with a wide archway leading to the dining room beyond. Curved entries and arches recur throughout the house, softening the natural light that streams in from every angle, creating a bright, open, and yet cozy feeling.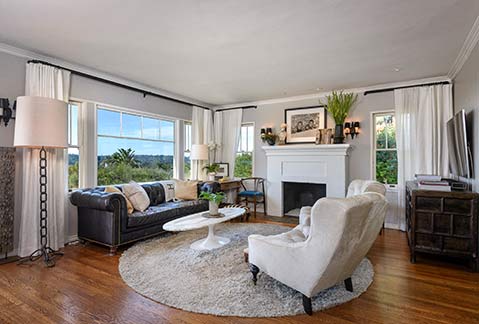 The home was built in 1928, and the period cabinetry, details, and built-ins have all been preserved. The windows are particularly notable. Many have multiple wood panes in a variety of symmetrical patterns. They are authentic and true to the era, yet every drawer and window glides as effortlessly as its 21st-century counterpart. In addition to the living and dining rooms, this main floor contains two bedrooms and a bathroom, plus a gorgeous updated kitchen filled with built-in cabinets and storage space that is both functional and beautiful. Even though the kitchen sits in the back of the house, the open floor plan allows views to the front through the dining and living room, and out to the side and backyard, as well.
In fact every view out every window of this house is picturesque, providing either an expansive scene of the city to the ocean out the front, or an idyllic view of the patios, gardens, and greenery to the side or back. Other than wishing I could erase the power lines, it is perfect. Even the proximity of the neighbor's house next door doesn't impact the privacy, and their red-tiled roof is storybook beautiful.
The backyard is an inviting study in ideal use of a compact space. It contains separate elevated decks flanking a large level dining area, plus intimate patios and walkways on the sides. Tall hedges and artful plantings define the spaces and lend a backdrop of green serenity, with a fountain providing a natural tinkling soundtrack.
Back inside, a polished wood staircase leads to the lower level and offers another example of yesteryear charm combined with recent attention to detail. Each original stair slopes slightly downward yet has a solid feel and has been refinished to gleam with each step.
Downstairs contains another bedroom and bath, plus an additional living room, which could be used as a fourth bedroom or left as is to offer a complete living arrangement on this level. The center of this floor is a bar area with a large pass-through window into the living room. Neighborhood lore has it that during prohibition this home contained a bootleg wine distillery in this exact spot. Standing here, it's easy to envision the scene and imagine these and many other stories from throughout the years.
This home is in pristine, move-in condition, but its original charm abounds throughout. As I say good-bye and give 1410 Grand a long last gaze, I feel as if I've discovered not just another block of Grand Avenue but another piece of Santa Barbara's history, pieced together like the patchwork of streets that I follow back toward downtown.
1410 Grand Avenue is currently for sale in Santa Barbara, listed by Josiah Hamilton of The Hamilton Co. of Berkshire Hathaway HomeServices California Properties. Reach Josiah at (805) 284-8835 or josiah@thehamiltonco.com.