Briefs
Dying Trees Shut Down Los Padres Campsites
Threatened by Drought, Bark Beetle Infestation, Dying Trees Post Safety Hazard, Officials Say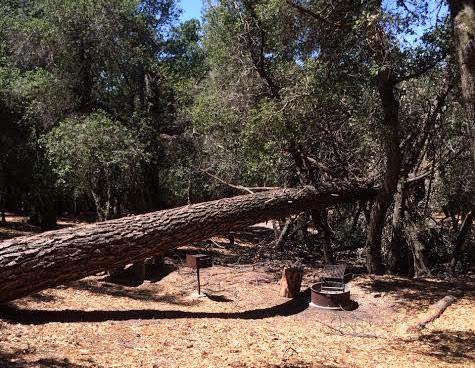 Still-standing dead and dying trees in and around Figueroa Mountain camping and recreation areas are forcing closures in Los Padres National Forest Friday, as rangers sweep the area for visitors and lock gates across access roads. The temporary shutdown includes the Pino Alto and Cumbre day-use areas, Lookout Road (also referenced as Forest Service Road 8N16), and all 33 sites at Figueroa Campground.
A dead tree that fell on an unoccupied Figueroa campsite on Wednesday prompted Forest Service officials at the Santa Lucia Ranger District to close the area until the hazardous trees — killed by five years of record-setting drought and a bark beetle infestation — can be removed. At Figueroa campground, Forest Service personnel have counted 128 dead trees "within striking distance of a campsite," said Ranger Nathan Rezeau. "I don't like closing campgrounds, but it's just not safe to let people in right now." He added that there have been no injuries or property damage from falling trees.
Rezeau had no estimate as to when the area would be reopened. Complicating matters is the fact that many of the Forest Service personnel who have been monitoring and clearing dead and dying trees in the area are now busy fighting wildfires across the state and beyond. Officials will likely see tree-removal contracts outside government channels.