Real Estate
Fabled Gables: 222 West Valerio Street
Craftsman Memories from a Onetime Resident of This Stately Home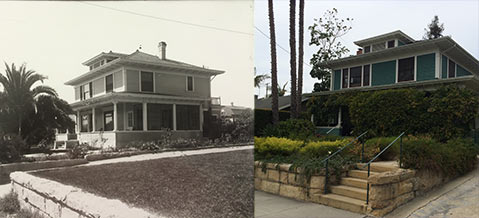 While festive architectural trimmings of the 1880s gave way to the fantasy-inspired Victorian movement, the next building genre soon caught on and quickly became a nationwide shift toward a more simplified approach in American living.
The craftsman era emphasized nostalgia of the frontier, juxtaposed with the rising "middle-class" society, ultimately producing warm and inviting residences. Designed less ornate than their predecessors, these homes were typically one to two stories. In addition, craftsman homes offered the generous use of earth-friendly building materials including softwoods, tile, and natural stone.
During this time, a number of journals originated, including The Craftsman magazine and Ladies' Home Journal. In addition, there were several notable architects to emerge from the craftsman era, which included Frank Lloyd Wright, Bernard Maybeck, Gustav Stickley, and the Greene brothers of Pasadena.
This Valerio Street residence, mostly of square configuration, was believed to have been built in the first part of the 20th century. It is estimated that the third owner of the home was Catherine Ladtilade, who reminisced her childhood memories while being interviewed by the Santa Barbara Historical Society when she was still living. In documented notes, Ms. Ladtilade stated that her family moved into the home around 1918, and as a child, she made items for use in World War I. She also recalled the builder's name "was something like Stanton, and his family lived in the 'barn' while the house was being built."
Over the years, the property has been well maintained and presently stands as a hallmark to a bygone time.