Briefs
'Gaucho Phil' Womble Dies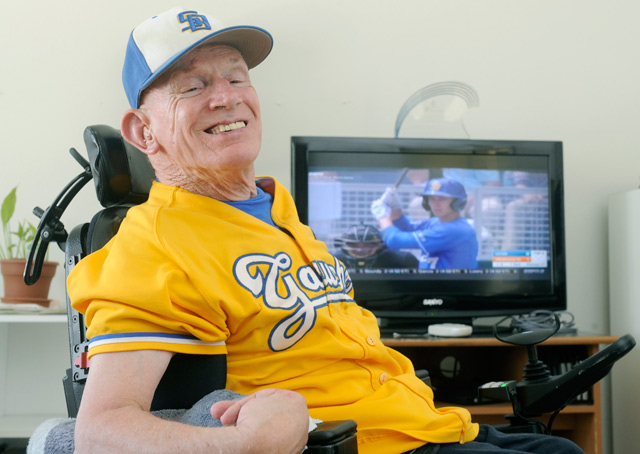 Phil Womble, an inspirational sports fan known as "Gaucho Phil" and a crusader for people with disabilities, died early Monday, January 23.
Born with cerebral palsy, Womble lived to celebrate his 80th birthday last September 4, but his health took a steep decline in late October. He remained in his home at Pilgrim Terrace and continually rallied – true to his motto, "Never Give Up!" – before death came to him peacefully in his sleep.
His full name was John Philip Womble III. Sports events were a touchstone for him to remember time spent with his father, J.P. Womble Jr., a rear admiral in the Navy who died in 1956 when Phil was 20.
Womble came to Santa Barbara in 1962 and resided at Hillside House. He moved out in 1990 to live independently. He was supported by the services of United Cerebral Palsy, and in turn he served as a longtime board member for UCP WORK, Inc.
A familiar spectator at Gaucho baseball and basketball games, Womble also appeared at UCSB classes taught by the late Walter Capps, a professor of religious studies and U.S. Congressman. Capps wrote the foreword for Womble's 1994 book, Never Give Up!
Womble has been inducted into the Gaucho Athletic Hall of Fame, the Santa Barbara Athletic Round Table Hall of Fame, and the Santa Barbara Court of Champions. Three Gaucho athletic awards are named after him. He is an honorary alumnus of UCSB, where the display area of the Intercollegiate Athletics Building is designated as the Phil Womble Hall of Champions.
"His indelible echo is etched in the spirit of our souls," wrote Donn Bernstein, UCSB's sports information director when Womble became involved with Gaucho athletics in 1969. 
Baseball was Phil's favorite sport, and he lived to see the Gauchos play in the College World Series last June, although he was unable to make the trip to Omaha.
Womble's values are reflected in the Phil Womble Ethics in Sports Award, which the S.B. Athletic Round Table annually presents to a student from each area high school. They are chosen for living up to these qualities: "Accountability, respect of teammates, opponents, and officials, honesty, positive attitude, reliability, loyalty, sportsmanship, others above self, and team above personal interest."
Beth De Noble, whom Womble met at Hillside House, was his closest companion for 40 years. They shared the experience of living with cerebral palsy. She died in 2012. They were parishioners at Christ the King Episcopal Church.
A memorial service for Phil Womble has been announced for Saturday, February 25, at 2 p.m. at Christ the King Episcopal Church, 5073 Hollister Avenue.