Society Matters
Unity Shoppe Celebrates 100 Years with Peter Noone Concert
Herman's Hermits Star Leads Tribute at Lobero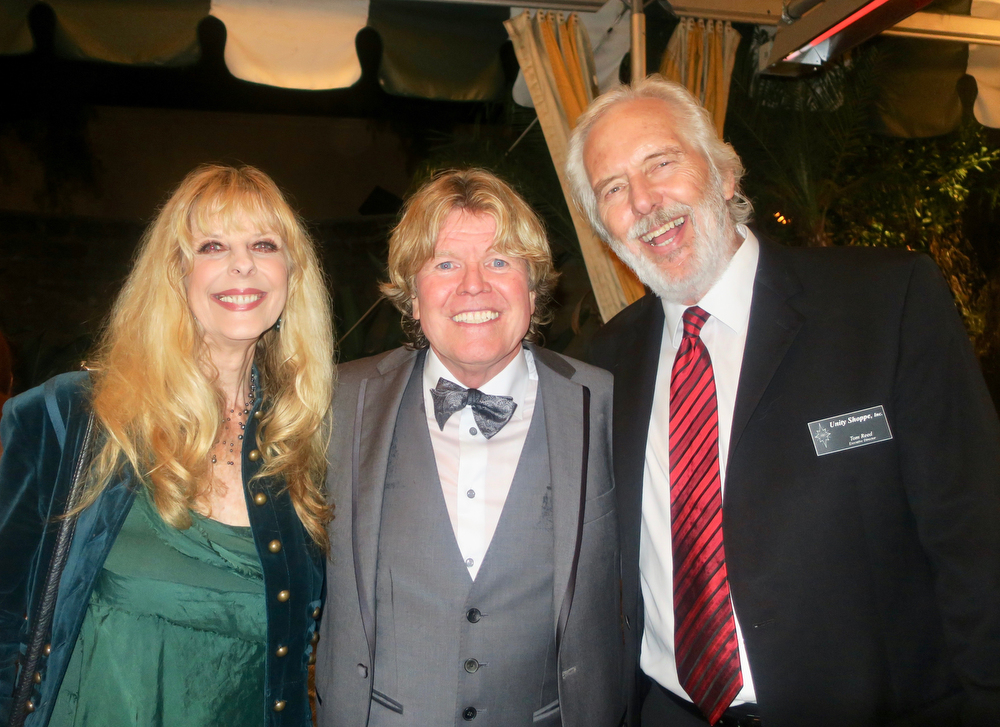 On October 10, a packed house of enthusiastic Peter Noone and Unity Shoppe fans got to hear an amazing performance by this British singer of Herman's Hermits fame. Fans from the group's1960s heyday along with younger generation fans sang along to tunes such as "I'm Henry the Eighth I Am" and "Mrs. Brown, You've Got a Lovely Daughter."
The concert was a benefit for Unity Shoppe, which is celebrating its 100th anniversary this year. More than 300 agencies refer clients to Unity Shoppe year-round for groceries, household items, professional attire, school clothing and supplies, job training, and long-term disaster recovery assistance. For the holidays, Unity provides a well-stocked store for parents and children to select toys, games, and books. Unity Shoppe provides all of this free of charge to qualified clients.
The evening began with a video presentation about Unity Shoppe, with singer Kenny Loggins sharing how 32 years ago, Unity Shoppe President and Director of Operations Barbara Tellefson approached him one night in a parking lot seeking his assistance. As soon as he learned of Unity Shoppe's mission, he was on board, creating the first telethon. Loggins has participated in every telethon since. Loggins shared how glad he is to have been a part of Unity and how Unity programs bring the community together, helping thousands of neighbors in need.
Executive Director Tom Reed explained how efficient the Unity Shoppe model is because it serves clients referred by 300 agencies, thereby avoiding duplication of services. Reed also shared how Unity Shoppe is the only long term recovery agency in the county, a role that has been critically important with all the fires that have struck our area. He proceeded to bring the entire staff onto the stage and shared how the average length of employment of these dedicated souls is a mind-blowing 20 years.
The video also featured testimonials from other Unity Shoppe supporters, including Jeff Bridges, Alan Parsons, and Mayor Helene Schneider.
Lois Mahalia, just back from touring with Joe Walsh and Tom Petty, wowed the crowd with a couple of songs. The 26-member Santa Barbara High School Madrigal Singers delighted the audience with some numbers, and Comedian Dennis Miller got lots of laughs during his surprise performance.
Noone thanked Kenny Loggins and Barbara Tellefson for introducing him to Unity Shoppe, and spoke from the heart in sharing his commitment to helping the organization over the years. Noone's daughter, Natalie Noone, joined him on stage for a song, while clips of the duo singing in past telethons, going back to 1996, flashed on the screen behind. The Noone commitment to Unity Shoppe is not just a family affair, members of Noone's fan club, Club Noonatic, often volunteer at Unity Shoppe as well.
Tellefson, who has worked at Unity Shoppe for 45 years, shared her wish of paying off the mortgage on the Chapala Street facility. She announced that there has been a $500,000 challenge grant issued and urged guests to donate what they can to enable Unity Shoppe to access this generous grant.
The evening ended with singer/composer Barry De Vorzon leading the audience in his "It's Christmas Once Again in Santa Barbara." The stage backdrop for the entire evening was several holiday trees because, true to its efficiency mantra, Unity will broadcast portions of the evening during its Annual Unity Telethon Celebration, this year on December 9. Somehow, this generous and beloved group of entertainers and other supporters was able to pull off a mini holiday celebration on October 10.
Last year, Unity served about 10,000 families and 3,500 seniors and distributed more than $2 million in food and merchandise. One key feature that sets Unity apart from many similar types of nonprofits is that parents and children shop for what they need rather than receiving a handout of pre-selected items. This approach both allows clients to maintain their dignity and avoids waste. Unity's core demographic is the working poor and seniors, though it provides assistance to the homeless in transition, such as those at Transition House and those in the Santa Barbara Rescue Mission's treatment program. Unity operates with a lean staff of 21, plus 1,700 youth volunteers on-site, and hundreds of adult volunteers on- and off-site.
Because Unity serving clients referred from 300 organizations, it is always very much in need of donations. A $2 million outstanding mortgage necessitated by a recent move could be nicely shaved down if Unity can raise the $500,000 needed to access the recent challenge grant.
For more info about Unity Shoppe, go to unityshoppe.org.