Society Matters
Benefit Event Held for Youth Interactive
Extraordinary Organization Transforms Lives of At-Risk Youth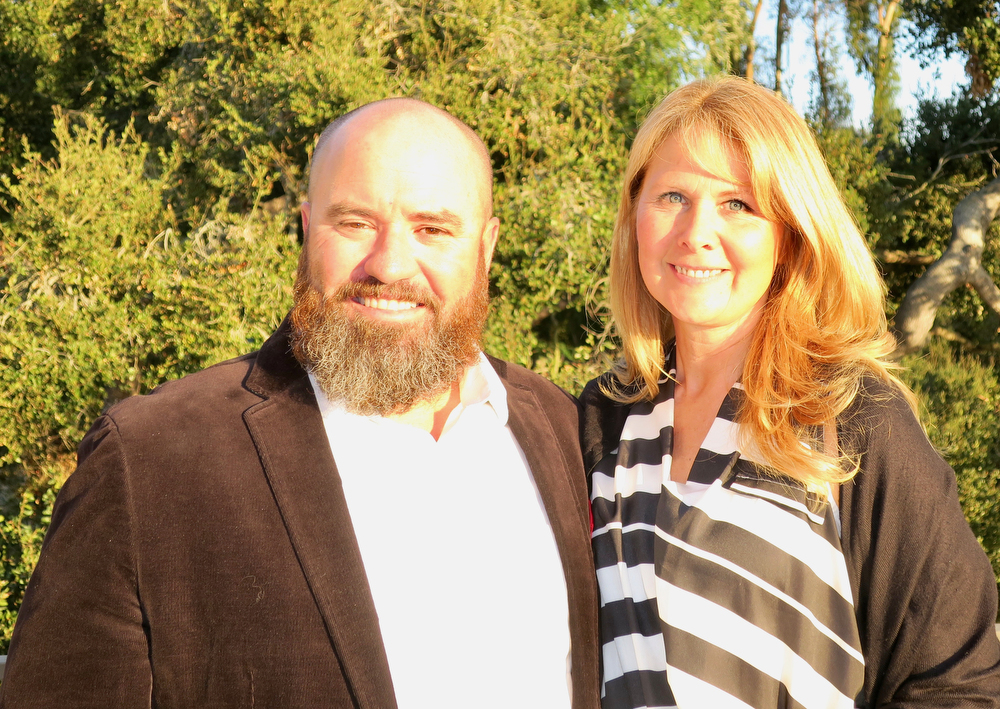 On December 3, an afternoon benefit event was held at the stunning Eucalyptus Hill estate of Cyndee Howard and Lesley Cunningham to raise funds for Youth Interactive (YI). This extraordinary nonprofit is transforming the lives of at-risk youth in Santa Barbara through a novel program of entrepreneurial and vocational training plus wraparound services.
About 90 guests mingled on the multilevel terrace and around the open-air contemporary home with panoramic ocean views before gathering for the program. Founder and CEO Nathalie Gensac welcomed the guests and shared her excitement about celebrating the first five years of YI's operations in Santa Barbara. She previously created similar programs in Jamaica and India.
Gensac explained how teaching youth entrepreneurship and real-life skills is the way to change their lives. She sees education as the great equalizer, the way to level the playing field for disadvantaged students. YI's programs reengage students in learning by redefining what education is. The statistics on YI students are astonishing: This past year, all seniors in the program graduated from high school and all went on to college. Considering these are at risk youth, 50 percent of whom have a criminal background, this is remarkable — as is the fact that those with a criminal background who have spent at least one year at YI have a recidivism rate of only 2 percent.
According to SBCC Foundation CEO Geoff Green, who has been an advisor to Youth Interactive, every move YI has made since inception has been the right move, and while every piece of the program is not unique, the way it is knitted together is. He declared his proud support for the organization, and went on to lead an ask that raised $85,000. The program included touching stories from two YI students and concluded with a performance by Johnny Irion and John Goodwin.
The after-school program takes place at YI's center in the Funk Zone. The 148 students enrolled this year, mostly ages 14-18, attend twice per week, and annual attendance rates have been between 96 and 98 percent. This is quite an impressive statistic for a group, many of whom, according to Gensac, normally would be attending school a third of the time or less.
One weekly session is business instruction, with small-group courses on budgeting, marketing, and other business skills, while the other session focuses on vocational skills. Students choose from four programs: art in many forms, jewelry, T-shirts, and bags and accessories (from fabric donated by Patagonia and sails donated by area yachtsmen). The center includes a storefront where the students sell their creations, with the proceeds going back to the students and the program.
With funding from the Santa Barbara Foundation, the Towbes Foundation, and the Williams-Corbett Foundation, YI now runs a fifth program, carpentry, on-site at Los Prietos Boys Camp, where students transform oak wine barrels (donated by Vincent Vineyards) into furniture, Christmas trees, and other objects. Gensac related how the effect on the these students has been truly transformational. According to Gensac, nationally, 60 percent of youth who are incarcerated for 90 days or more do not return to school. Yet YI has created a program where this difficult demographic actually wants to go to school and wants to start a business.
A vital component of Youth Interactive is its Get It Done program, which is a wraparound program run by volunteers, largely from Congregation B'nai B'rith, that provides a wide range of assistance, including homework help and mentoring; assistance with practical matters like reentering high school, applying for college, and opening a bank account; and referrals for counseling, shelter, and childcare.
The current center is at capacity and YI is turning eager students away, so the organization is seeking a larger space that will allow YI to serve more students and start additional programs in culinary arts and music. There will be an expanded retail space where sales of students' work will help sustain YI's operations. At this new art and entrepreneurship hub, Gensac hopes to partner with other organizations to create a commercial community center. The Hutton Parker Foundation has committed to purchasing a space and renting it to YI at below market rate.
Gensac has surely found a winning formula, and some key philanthropists have taken notice, but more funding is needed. YI hopes a $100,000 matching grant will provide some enticement for end-of-year giving.
For more information about Youth Interactive, go to youthinteractive.us.
If viewing this from a mobile device, click on "Desktop site" for more pics.
Send event invites to Gail at society@independent.com.