Make Myself at Home
Make Myself at Home: Balinese Contemporary in Cielito
Beauty Abounds Inside and Out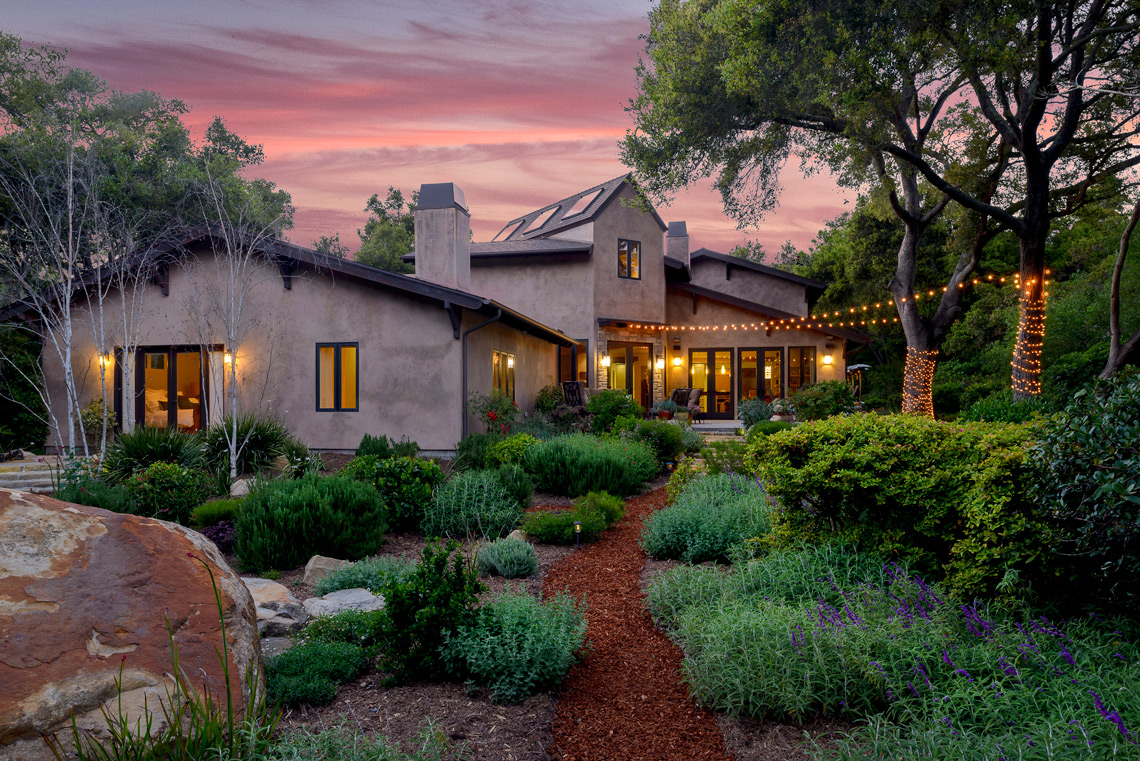 The birds in my backyard have been very vocal lately. A pair of little black-headed wrens have taken to chirping at me anytime I'm outside: doing my laundry, puttering in the garden, or just sitting in the sunshine reading a book. There's a big stand of bamboo just outside my back door, and although I haven't seen an actual nest, I think that's where they've chosen to make one. They're keeping an eye on me, and I'm keeping an eye on them, hoping that soon there will be baby birds to add to the chorus of cheeps and chirps.
When I went open-house viewing last Sunday, I didn't expect to see much more wildlife activity than my birds' antics of late. However, I wasn't anticipating the flora and fauna of 2415 Stanwood Drive.
I drove past the Mission and on to Mountain Drive, past the Sheffield Reservoir, and then up Mission Ridge to Stanwood. This neighborhood between Skofield Park and Parma Park, called Cielito, is only five minutes from State Street but feels worlds away. Oak trees and boulders line the hills, and houses are far apart, set back from the street.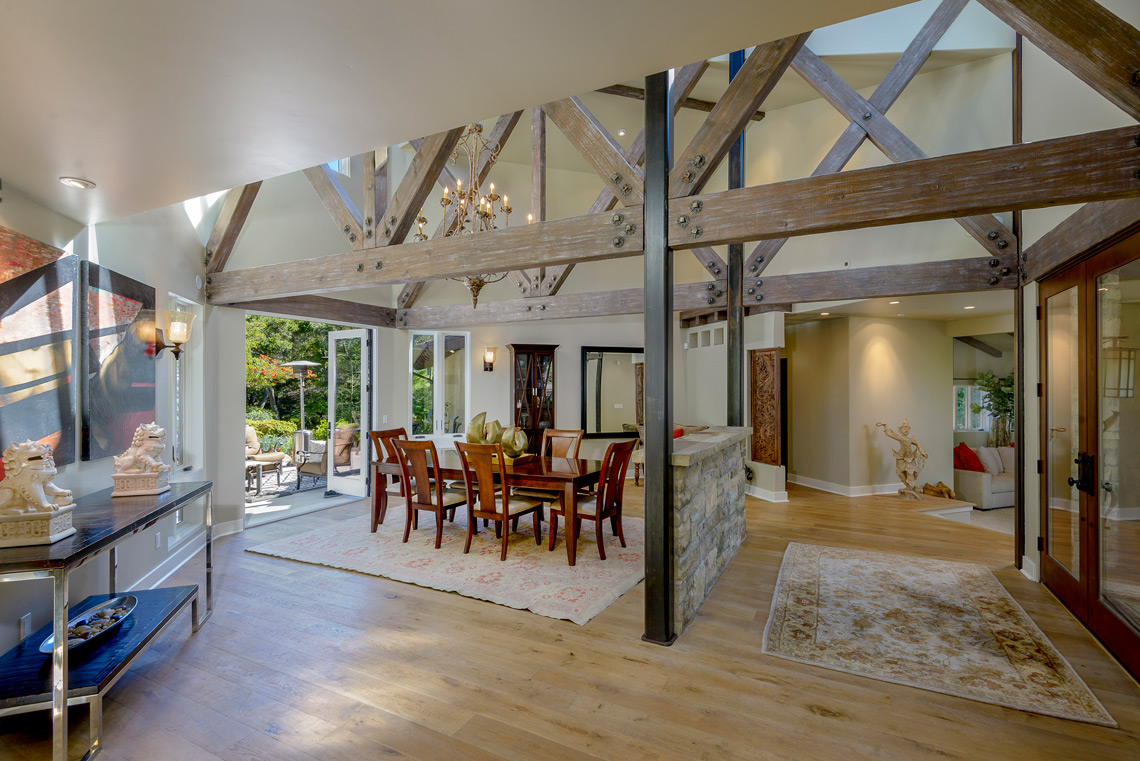 The house at 2415 Stanwood is a serene, Balinese-style sanctuary. One step into the foyer, and I had my first "wow" moment. The front door opens into a dramatic dining room with 24-foot ceilings accented by a unique set of steel crossbeams that are at once modern and rustic, somehow reminiscent of both a covered wooden bridge and a skyscraper. Skylights and windows illuminate the beauty and craftsmanship of this room, while a stone half wall defines the space and adds a natural contrast. Hanging above is an ornate iron light fixture that fits the space perfectly.
Through plentiful windows and a set of French doors, my gaze was drawn outside, to an expansive patio with a softly rippling fountain and lush greenery all around. The house sits on more than an acre of oak forest, with winding paths and steps leading to different levels and seating areas.
I'm a sucker for a tree house, and in the far reaches of this yard, over a bridge that crosses a stream, sits a round wooden tree house begging to be explored.
I admired it from the back patio but decided to tour the rest of the house before going outside. The kitchen, one bedroom, and garage are to the left of the entryway, while the living room and master suite are to the right, and two en suite bedrooms are upstairs.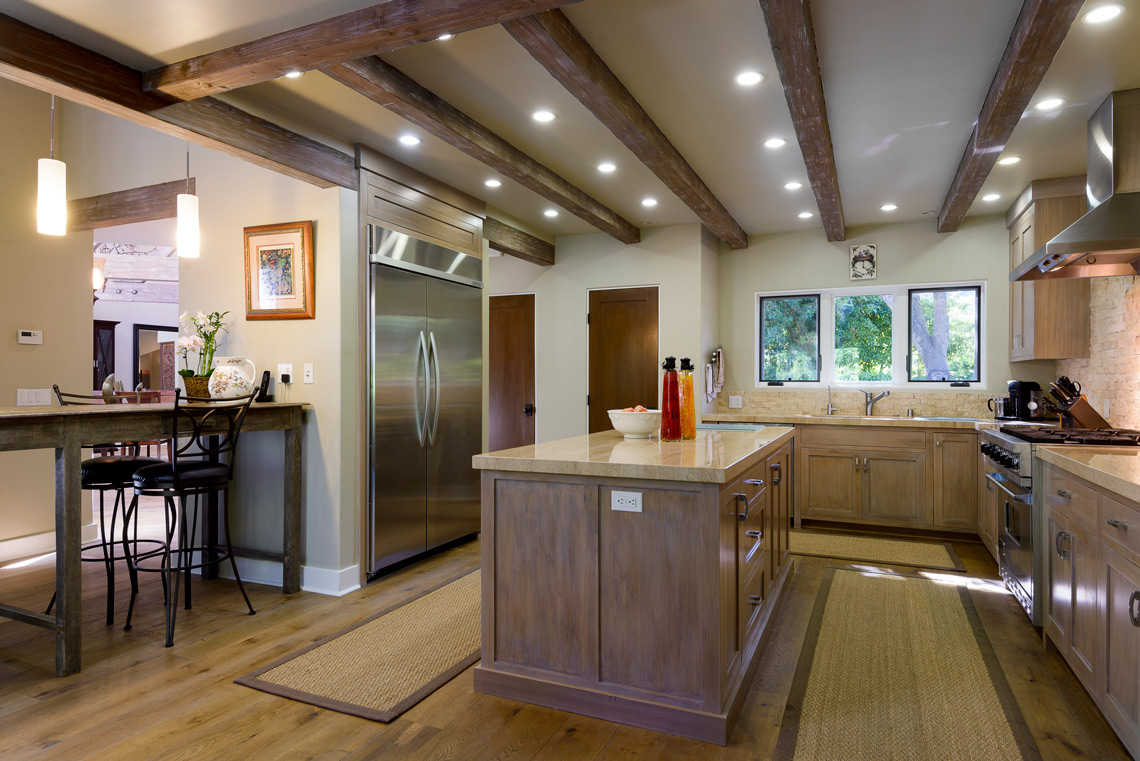 The kitchen is huge. Sleek counters, a muted color palette, and gourmet appliances are a treat to the eyes and promise a delightful milieu in which to cook, where the food and the camaraderie will be the focus. My peek into the cupboards revealed not one but two well-laid-out pantries. I'm sure there were plenty of other delights to discover had I had the time to linger.
Zipping upstairs, both bedrooms were well-appointed, and the bathrooms featured surprises like slate floors and custom teak vanities. My favorite part of the second floor is the landing at the top of the staircase. Open to the dining room below, it provides another view of the dramatic entryway and ceiling and is large enough to be a small office or sitting room itself.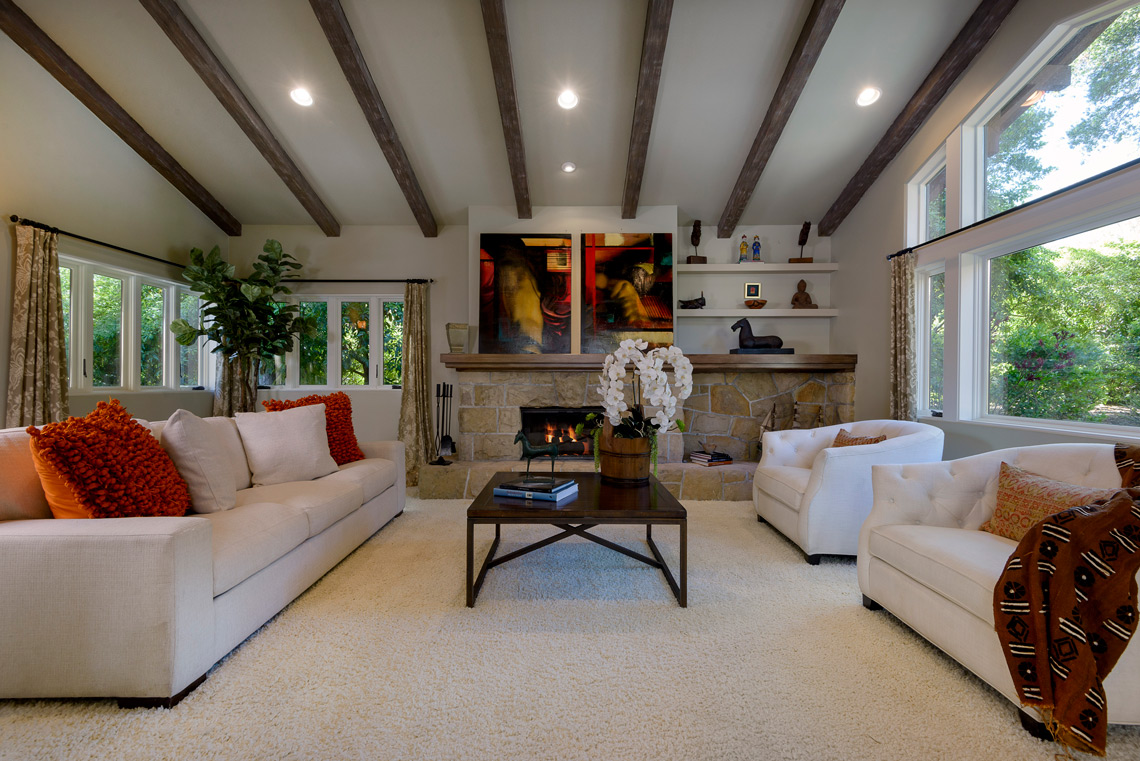 Back downstairs, I headed toward the other wing. The living room is sunken one step, which gives it a cozy sense of separation from the rest of the first floor. It has 11-foot beamed ceilings and a gorgeous stone fireplace with a wooden mantel that stretches across the room. The lighting in this room, and the entire house, is subtle and perfect. When I commented about the ambience, I learned that all of the systems in the house — the lighting, heat, a/c, and even the sound system — are state of the art, allowing them to be adjusted precisely.
Down a short hallway, I encountered an amazing master suite: even higher ceilings than the living room, another cozy fireplace, and a two-sided walk-in closet bigger than my whole bedroom, with built-ins galore. The master bathroom was the pièce de résistance. A double-head shower and double sink go almost unnoticed because the tall soaking tub with a view out to the garden steals the show.
As I looked outside, I stopped frozen in my tracks. A huge deer stood not 10 feet away, staring straight at me. We eyed each other for what felt like minutes before he scampered away, proving he wasn't just a statue and leaving me staring, dumbfounded, in his wake.
I reported my amazing sighting to my friend Jessie, who was holding the open house. She shared my amazement and remarked, "That sure doesn't happen often in Santa Barbara." It was certainly a first for me. I drove back down the hill stunned and delighted by what I had seen both inside and outside of this incredible Balinese sanctuary on Stanwood.
2415 Stanwood Drive is currently for sale in Santa Barbara, listed by Randy Glick of Berkshire Hathaway HomeServices California Properties. Reach Randy at 689-7167or randy@randyglick.com.