The Home Page
The Home Page | Real Estate Gatherings Galore
A Who's Who of Real Estate at UCSB's Economic Forecast Project Summit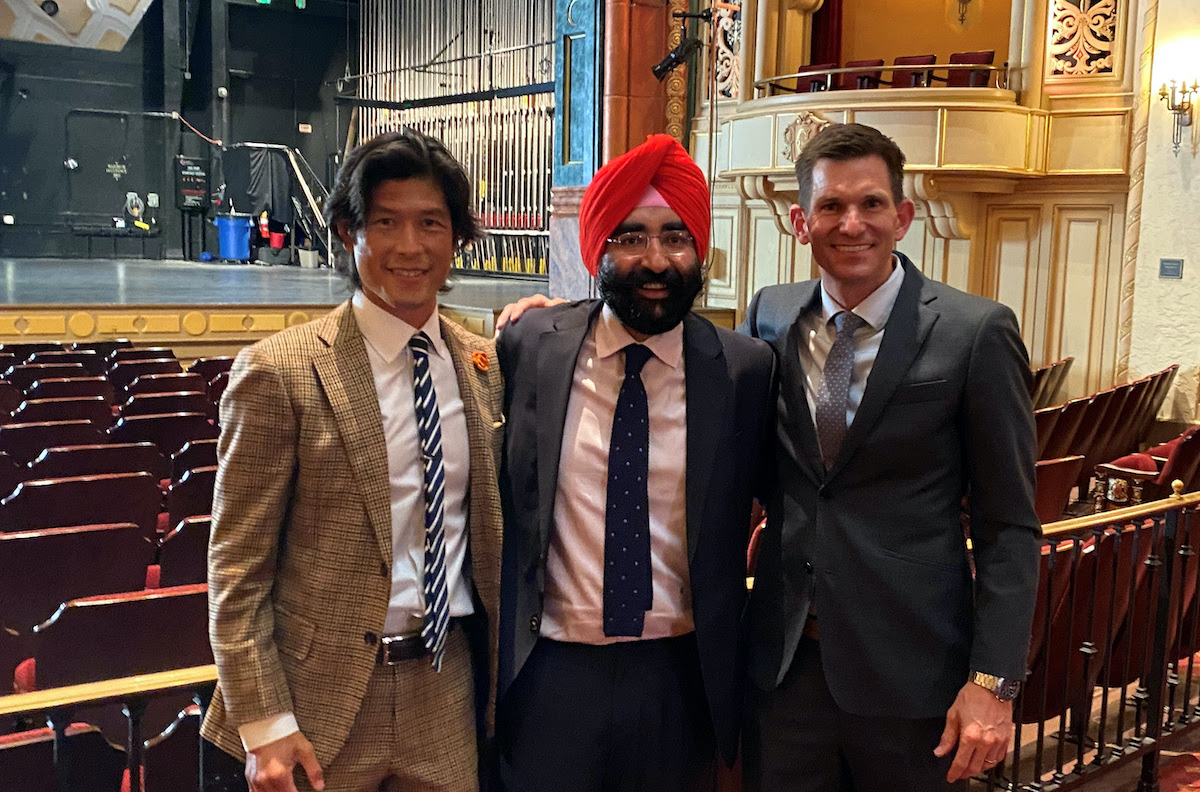 ---
This edition of The Home Page was originally emailed to subscribers on May 15, 2022. To receive Sarah Sinclair's real estate newsletter in your inbox each Sunday, sign up at independent.com/newsletters.
---
ON THE BIG STAGE
Santa Barbara is opening back up with a frenzy, and the local real estate calendar is chock-full of meetings, seminars, and events. Last week's UCSB Economic Forecast Project Summit at The Granada Theatre was a veritable who's-who in the local business, finance, and real estate world. David Kim of Village Properties presented a residential real estate outlook and Gene Deering of Radius Group gave a commercial  overview. The presentations were insightful even for those who live and breathe these topics. The real fun came when The Home Page got the behind-the-scenes story of David and Gene's history. David told me, "Being asked to present at the UCSB Economic Summit this year was pretty surreal for me. I graduated from UCSB in 2003 with a degree in Business Economics. Back then, I was working almost full time at Isla Vista Surf Co., and a funny story is that I even sold Gene Deering his first surfboard! Who would have guessed that 20 years later, we would both be presenting on stage at The Granada Theatre!" David and Gene are shown above flanking Jagdeep Singh Bachher, chief investment officer with the UC Office of the President, who spoke about investing in turbulent times. Read the full story here.
ON THE LINKS
On Friday, May 6, the Santa Barbara Association of Realtors hosted their annual charity golf tournament at Glen Annie Golf Club. Records were set, funds were raised, and fun was had by everyone involved. Golfers received shirts, gloves, balls, hats, and more, thanks to generous sponsors. Mariachi music and Mexican food all around the course set a festive "Seis de Mayo" theme. This year's charity recipient was Jodi House Brain Injury Support Center. While the final fundraising tally will take a bit of time to finalize, the online auction that we told you about here last week raised more than $7,500. Thank you for your support! See full gallery of photos from the event here.
IN THE PUB: ABCS OF AUD
The Coastal Housing Coalition (CHC) will present a mixer on Wednesday, May 25, from 5-7 p.m. at Figueroa Mountain Brewing in the Funk Zone. Titled "What's Brewing with AUD?" and billed as a barstool conversation with local professionals Christine Pierron, Matt Taylor, and Jessica Metzger, moderator Craig Minus of CHC will lead a conversation about the past, present, and future of the Average Unit Density (AUD) program in Santa Barbara, and how it may address our local housing needs. The free event is open to the public but requires an RSVP to craig@coastalhousing.org.
What's on your calendar today? There are plenty of open houses on tour; only one week left of Through Vincent's Eyes, the Van Gogh exhibit at the Santa Barbara Museum of Art; and a full moon and total lunar eclipse tonight! However you spend your Sunday, make it a great day!
---
Support the Santa Barbara Independent through a long-term or a single contribution.
---