KJEE Morning Show co-host Adam Lundquist has been making waves throughout the Internet over the past few weeks, thanks to a YouTube video of an interview conducted with Los Angeles Clippers star Sam Cassell. In the video, shot while the Clippers were in Santa Barbara for training camp earlier this month, Lundquist takes Cassell to task, asking him if people are correct when they call him ugly, and if Cassell thinks he most resembles Gollum from Lord of the Rings, or E.T.. Lundquist used information gleaned from Wikipedia's entry on Cassell, and at the beginning of the interview, mistakenly said Cassell played for the other Los Angeles basketball team, the Lakers. "I knew he'd be annoyed," Lundquist said.
The interview has been featured as the Sports Illustrated "Video of the Day," was linked to the Best Week Ever website, and also featured on AOL's sports site, resulting in more than 75,000 hits, and 200-plus comments on the YouTube page. He will be interviewed today, October 30, at 1:15 p.m. by Boston radio personalities Toucher and Rich, who the Boston area native Lundquist idolized while growing up. "They got me into radio," he said.
Lundquist, who has been at KJEE for four years, has been asking questions of celebrities and athletes for years, but the Cassell interview certainly takes the cake in terms of popularity, he said. Lundquist once asked former baseball player Jose Canseco, who admitted to using steroids, which current player, if any, would he be most interested in injecting steroids into. He also asked current basketball player Lamar Odom, who has been suspended in the past for marijuana use, what about playing basketball makes him want to smoke weed. He recognized his opportunity as a radio show host to really dig deep and ask the tough questions. "I hate when other stations are like, 'What's your favorite cupcake?'" he said.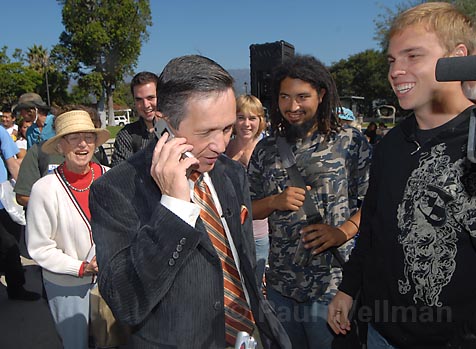 By Paul Wellman