Bob Williams says you don't have to watch the movie Hoosiers to enjoy the eternal fundamentals of basketball. "Go watch Westmont play," said Williams, head coach of the UCSB men's team. He much admires the style of the Warriors-the Gauchos scrimmage them every year to get a taste of it-and he says of Westmont's coach: "John Moore is a treasure."
The Warriors have enacted Hoosiers in another sense: Their games are replete with happy endings. The combined record of Westmont's men and women was 22-5 entering this week, both of them among the leading contenders in the Golden State Athletic Conference, one of the strongest leagues in the NAIA.
Williams needs a new script writer at UCSB. His Gauchos have endured a series of horrifying collapses. They start out great guns-they even hung with North Carolina for 30 minutes-but down the stretch, they fall off a cliff. "I can't figure out what it is with the second half," Williams said after Cal State Fullerton rallied from a 13-point deficit and defeated the Gauchos 62-58 last Saturday.
The Gaucho women have found an answer to scary endings: Buckle down on defense. They held three opponents to 40 points or less in a five-game winning streak that propelled them to the top of the Big West Conference standings.
And in community college action, SBCC is off to a winning start at the Western State Conference.
Here is a look at Santa Barbara's college basketball teams at the midpoint of the 2008-09 season.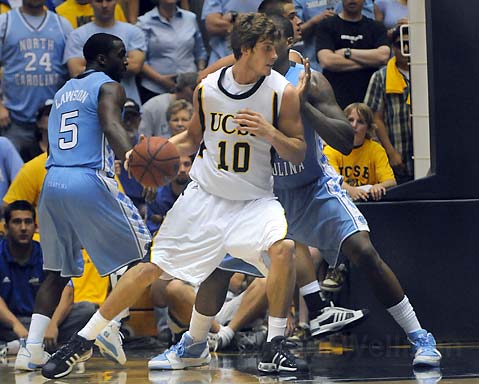 By Paul Wellman